Mexico, Brazil, France, discover in this n ° 7 of July the astonishing journey of Dyhanna, who through her training and her artistic experience, broadens her musical universe to genres as different as the French festive song, the Franco-Mexican rhythms , Irish music, jazz, traditional Polish music, baroque music, world music or prenatal singing!
Breathtaking !!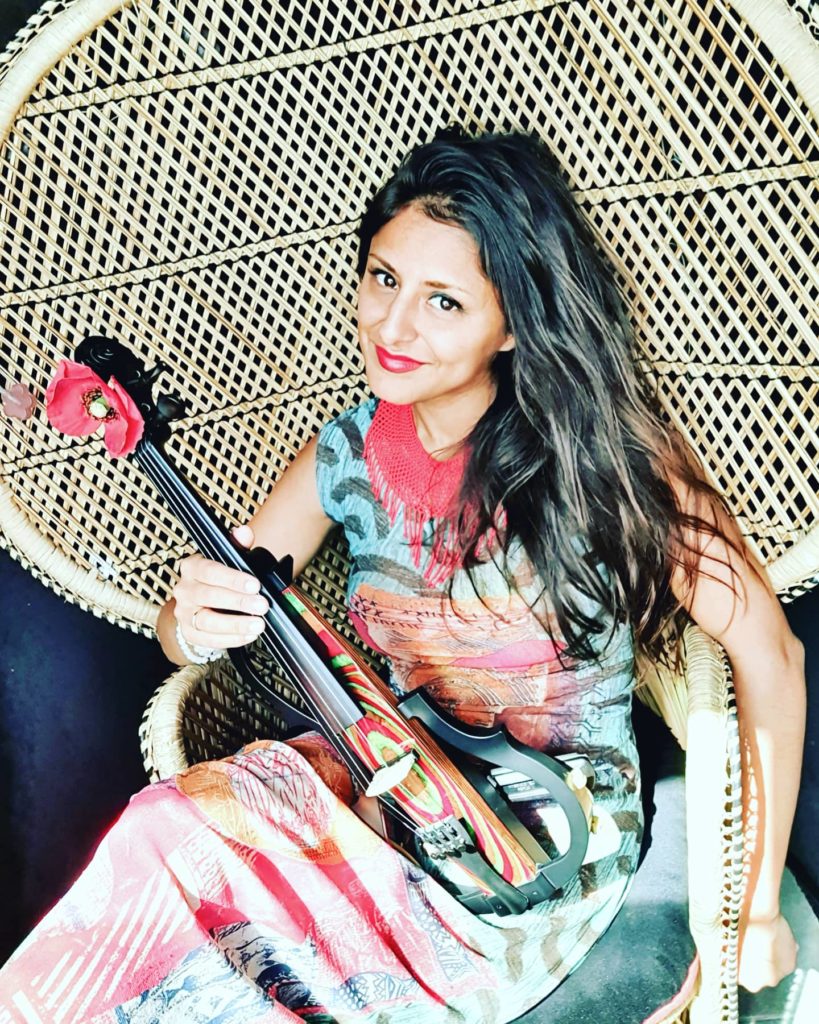 Mexico is your country of origin? In what city were you born and how was your childhood?
Yes. I was born in Mérida, Yucatán, southern Mexico in 1987.
I had a somewhat hectic childhood … but happy thanks to my family's support on the maternal side. My mom had me very young and it was not easy for her to deal with a toddler, her studies and her professional life. My biological father, also a musician, was always absent until the day he was gone for good. I was 4 years old.
You have artist parents, what did they bring you?
I come from a family of musicians, from generation to generation. My mother, Katia, violinist and singer, is the daughter of Professor Juan-Alberto Bermejo Suaste, head of the string department at the School of Fine Arts in our hometown.
Juan-Alberto had eleven brothers and sisters, most of them all amateur musicians who sang and played the guitar. He was the one who pushed his studies to become a school teacher while conducting many orchestras.
Of the four children my grandparents had, it was my mother who fell in love with the violin. My uncles have had other backgrounds but they too sing and play guitar like real troubadours!
My biological father, also a violinist, had a rather turbulent but brilliant career. Unfortunately, life was not easy and he was not there for his family. I have memories of him as happy as they are sad ..
My parents met very young during orchestral sessions in Mérida. A love story that took the turns of a dramatic film. I never talk about it because it reminds me of a very painful time in my childhood. He left the family home when I was only four years old and my mother was becoming a mother for the second time with the arrival of my brother César.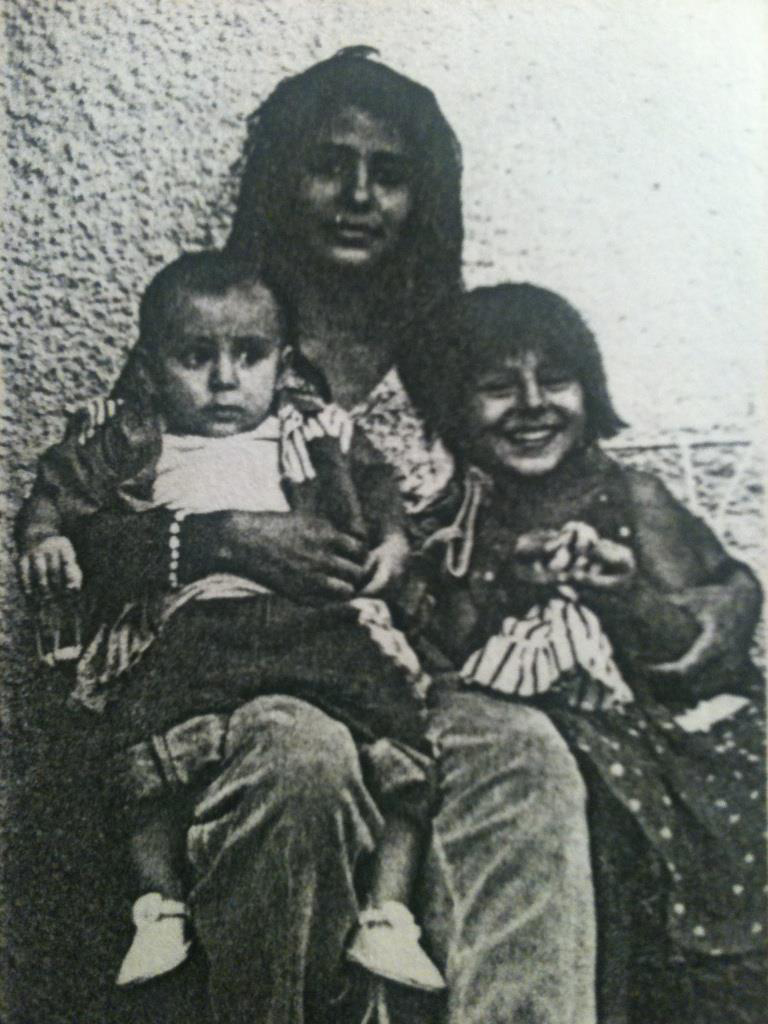 In any case, if I owe anything to anyone, it is undoubtedly to my mother and my grandparents for having transmitted to me the love for music and particularly for the violin that I wanted at all costs to learn. It was a need, like my life depended on it. A third lung? A second heart?
At what age did you learn the violin? Who was your teacher?
That's a funny question because I feel like he's always been a part of me. When I was about two years old, every time my dad played the violin in my presence, I wanted to take it (much like my daughter with me today!). He ended up buying me one my size from a craft market so I let him work.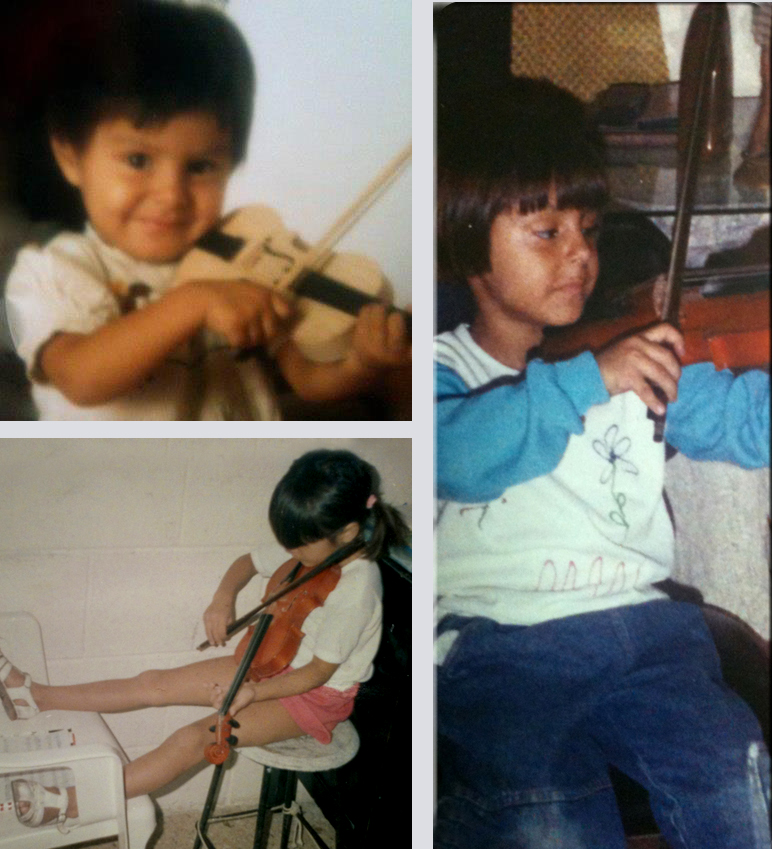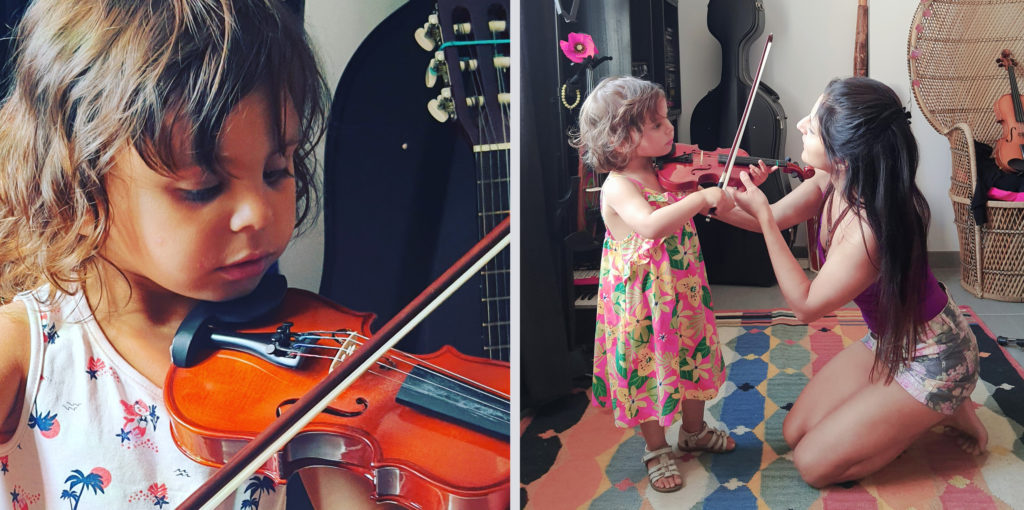 It was later that I got a real little violin and started music school lessons when I was 5 or 6 years old.
My first teacher was my mom, then my own grandfather from 6 years old until I was 10/11, in Mexico.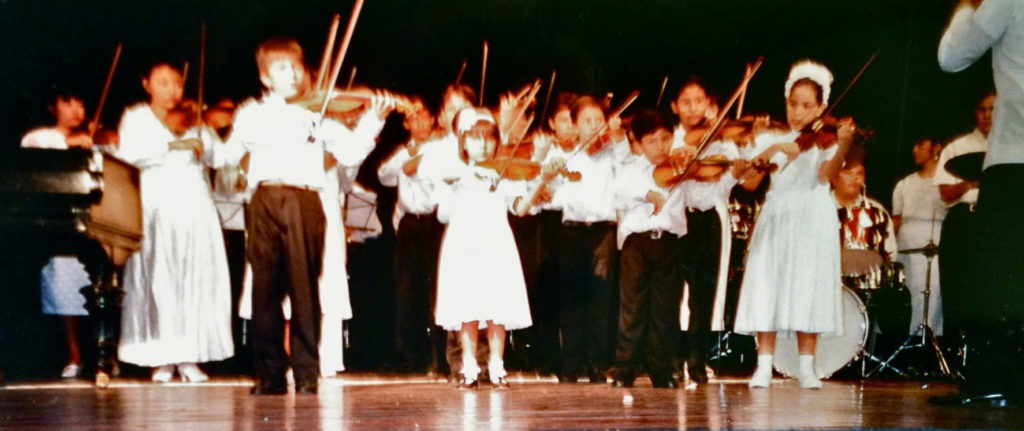 When I was 8, he took me to my first international competition in Mexico City. My first "tall" experience outside of my hometown and also my first time on a plane. Quite an event! I came in 6th.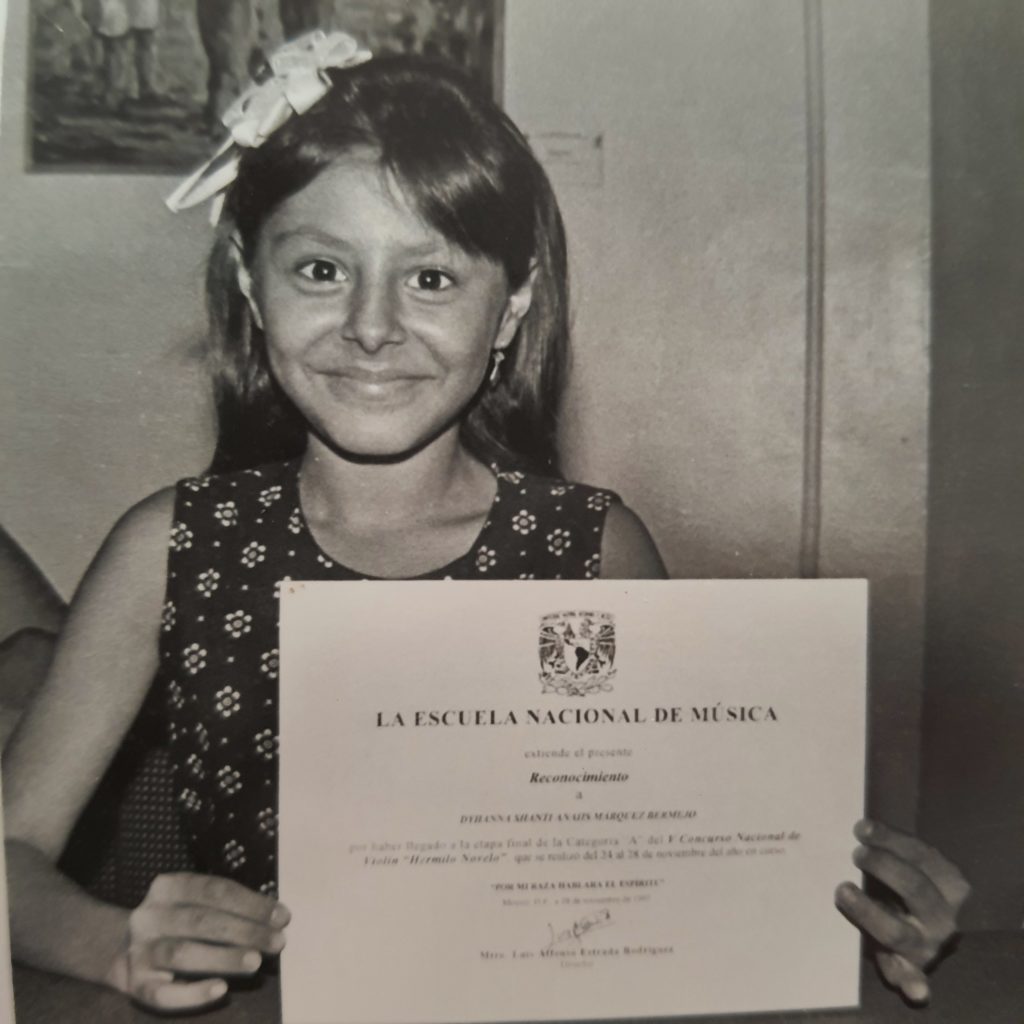 At 11 you left your country to go to Brazil? Why this country in particular?
Following the separation of my parents, my mother met, a few years later, the one who would later become my adoptive father, Bertrand Lecocq.
My mother wanted to learn French and pushed the doors of the Alliance Française, located in the "Colonia Mexico" district of Mérida, to register. It turns out that Bertrand was the director. Without going into the details of their budding love affair, he was due to leave Mexico to take a post in Brazil for a four-year contract. After a few months, he came back to ask my mother in marriage and the three of us left for Brazil, my mother, my brother then aged seven and me, eleven.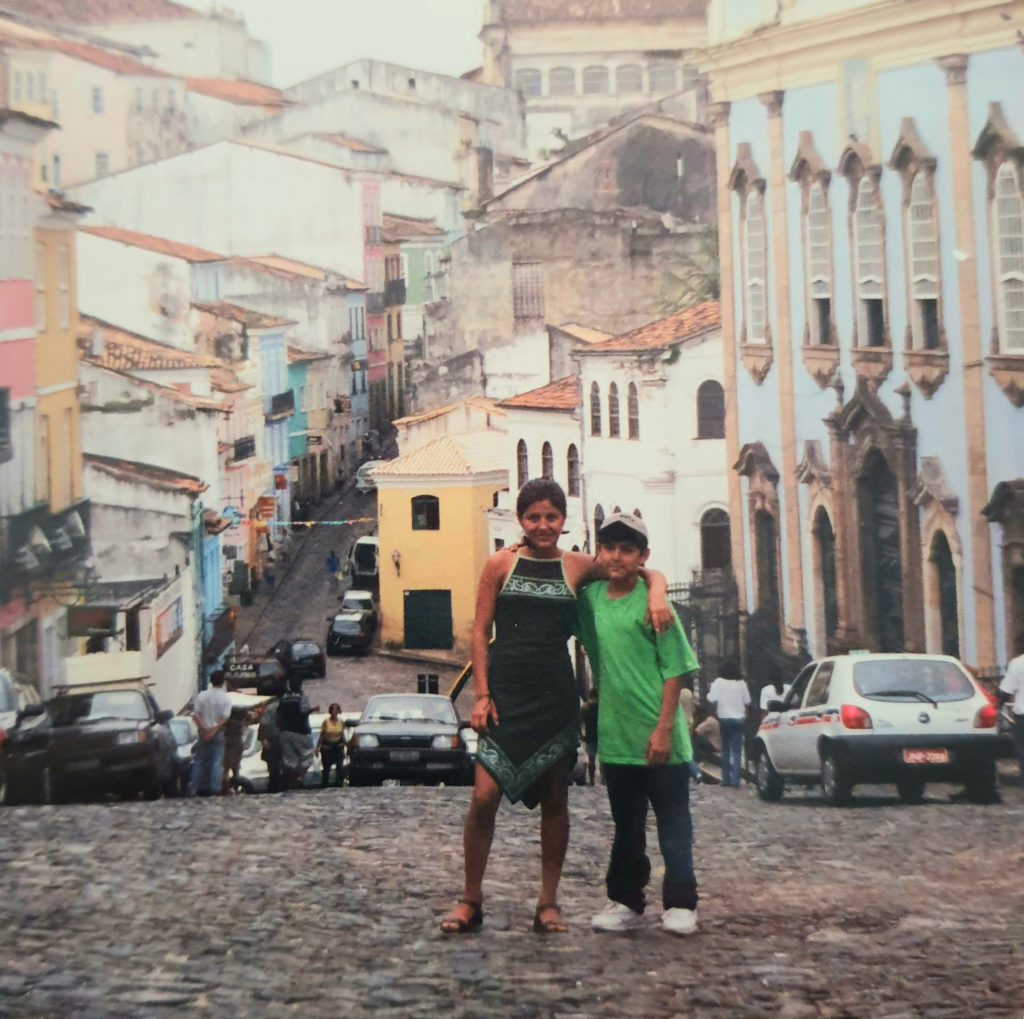 Everything happened really fast. We learned that we were going to leave Mexico to go to Brazil and then go to France to stay there!
But this love for music, we have always managed to share it as a family, which has also allowed us to bond and expand our knowledge and musical tastes.
In your new country, did you go to school and continue to take music lessons?
Yes, I go to the private school "2 de Julho" in Salvador de Bahia. July 2 is the date of the city's independence in 1823
And I joined the IEM, (Institute of Musical Education) where I discovered the Suzuki method. It is a Japanese method implemented by violinist Shinichi Suzuki in the middle of the 20th century. The child starts learning music very early and the method is based on the principle of listening and repeating without knowing how to write music.
Then I was enrolled in the music school of UFBA (Federal University of Bahia), which offered courses in musical training and classical violin.

I had individual lessons but also in groups and often parents were invited. It got us used to having an audience while learning a very varied repertoire. The degree of difficulty changed according to our pace and our motivation.
Did you have to learn Portuguese?
Yes, in… two months before the start of the school year. Houuhouuy! Fortunately, Portuguese is a Latin language very similar to Spanish, my mother tongue. It's a very happy and singing language and it helped me. It was a joy to learn it, it was like learning music.
Three years later you arrive in France? Why France?
Remarried mom follows the chosen one of her heart, my step-dad, originally from the North of France, and after three and a half years in Brazil, we arrive and we settle in France, near Douai. I am fifteen and my brother Cesar eleven.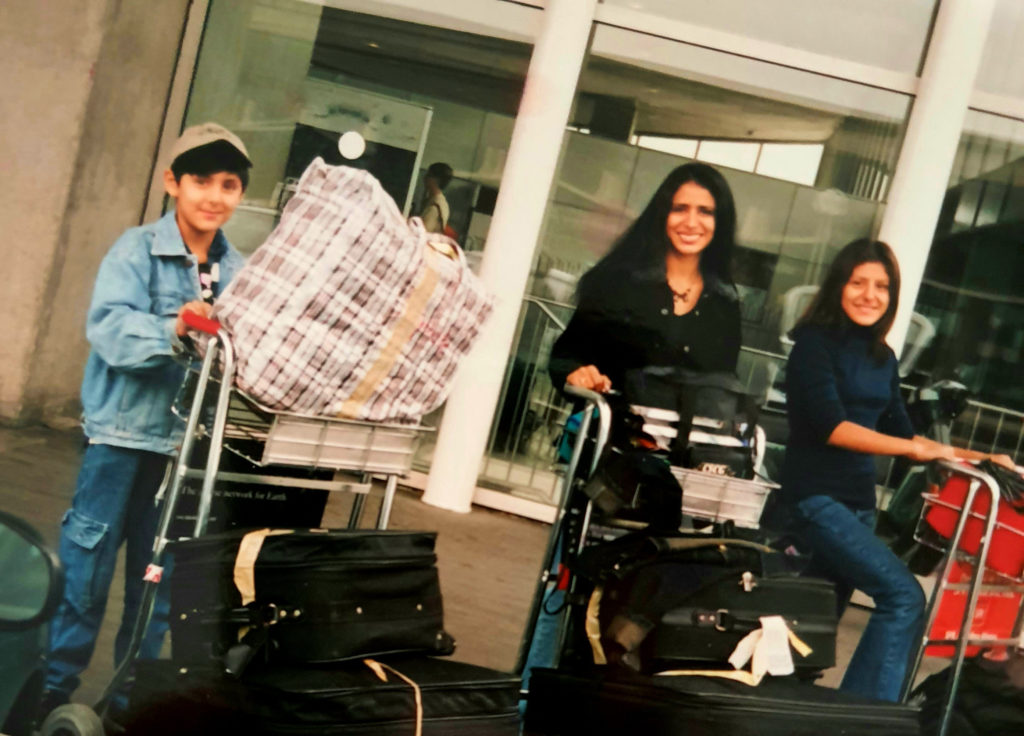 Do you continue to take music lessons while pursuing high school and university studies?
I continue yes, while learning French. But the method here was quite different. I had developed my musical ear a lot, but I had to get up to speed in music theory because it was higher at the Conservatory.
I first joined the flexible hours classes at the Collège Albert Châtelet in Douai (general lessons in the morning then musical afternoons at the Conservatory of the same city). Then I obtain a literary baccalaureate mention "Arts and Music", then I opt for a BTS in trilingual Executive Assistant to secure an additional diploma while waiting to obtain those from the Conservatory.
I have always done double studies because it was inconceivable to stop the music which has always been my breath of fresh air. The parallel language studies, according to my parents, was to secure my future, and it was also in a way, the condition if I wanted to continue my music studies.
So I arrived in License LEA (Foreign Languages Applied) at the University of Artois in Arras, believing that one day I could become a Spanish teacher, translator or interpreter.
I played on two fronts and for both I had to be efficient. I had some frustration because I was competing with other students who were only dedicated to music while I had my university job on top of that.
I was trying to optimize the time working on the train or in the library next to the conservatory but it was never enough.
To this, I added orchestral projects and concerts in Lille to live musical experiences. So I "traveled" between Douai, Arras and Lille, my school bag on my left arm, my suitcase that I pulled with my right hand and my violin on my back, all in high heels for style !!! Always running so as not to miss the train or the bus … suddenly, I remained "slim" and sporty! (laughs …)
But life has its mysteries … I validated my license in languages and obtained two gold medals at the Conservatory, but I pushed too hard! I've asked too much of my body in a very short time … and the price to pay will be severe tendonitis which made me stop playing the violin for two years !!
With your musical background, you could consider a career as a musician and integrate you into the northerner musical landscape?
Well, I dreamed of it … but I was torn between studies and the concerts that I already gave a little to the right and to the left, with small groups or with orchestras.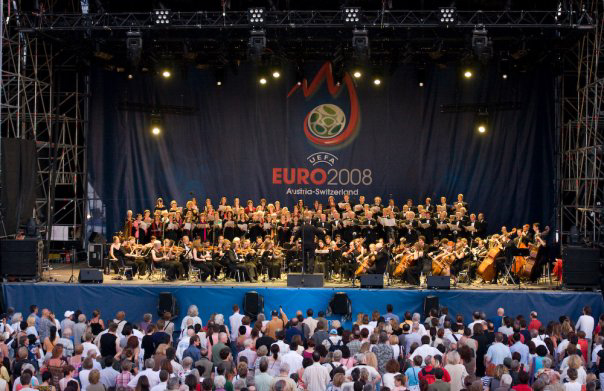 As for my musical background… Yes and no! I felt a bit lost and never up to the task after a mishap that made me lose confidence in myself. I didn't feel out of place anywhere. Yet I felt that I had something to do and to give musically.
I didn't really start off the way I would have liked, pushing the "big door" like the pros …
And since I was stuck, I couldn't exercise the music. I had to find a job. I was drawn to teaching and becoming a School Life Assistant seemed like a good solution while waiting for a job.
So I accompanied children with disabilities during their schooling. I started to offer musical moments. This is where I had a little revelation: I wanted to make music in schools, so that children, disabled or not, find their place, integrate into the group, experiment, exchange, discover each other's abilities and have a good time together. I found that children with disabilities were quite sidelined and music allowed them to bond.
You reconnect with music by becoming a violin teacher and you get at the CFMI (Training Center for Intervening Musicians) the intervener diploma?
Yes, the coincidences of life …
I needed to pick up the music somehow, to believe in myself again, to re-share my love for the violin and I agreed to do a replacement at a music school in Lille after almost two years of total cessation of the violin. I also wanted to get my voice back, which I had also lost …
Without being able to express myself through music, I no longer had a taste for anything. I took my courage in both hands and started lyric singing lessons to learn a bit of technique and for the pleasure of singing.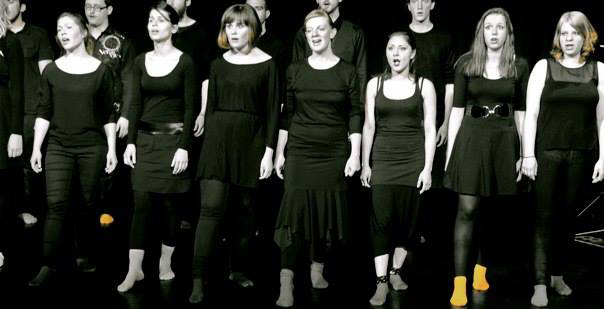 It was there that I started to meet people and first heard about CFMI training to become Musician Intervening. A phone call, an application file sent, admission tests accepted, I was ready for this new adventure while giving my violin lessons at the Faubourg des Musiques in Lille.
And there, you make beautiful encounters?
Absolutely ! Thank you CFMI! I meet people and trainers great, incredible musicians and friendships that are still a part of my life today, near and far.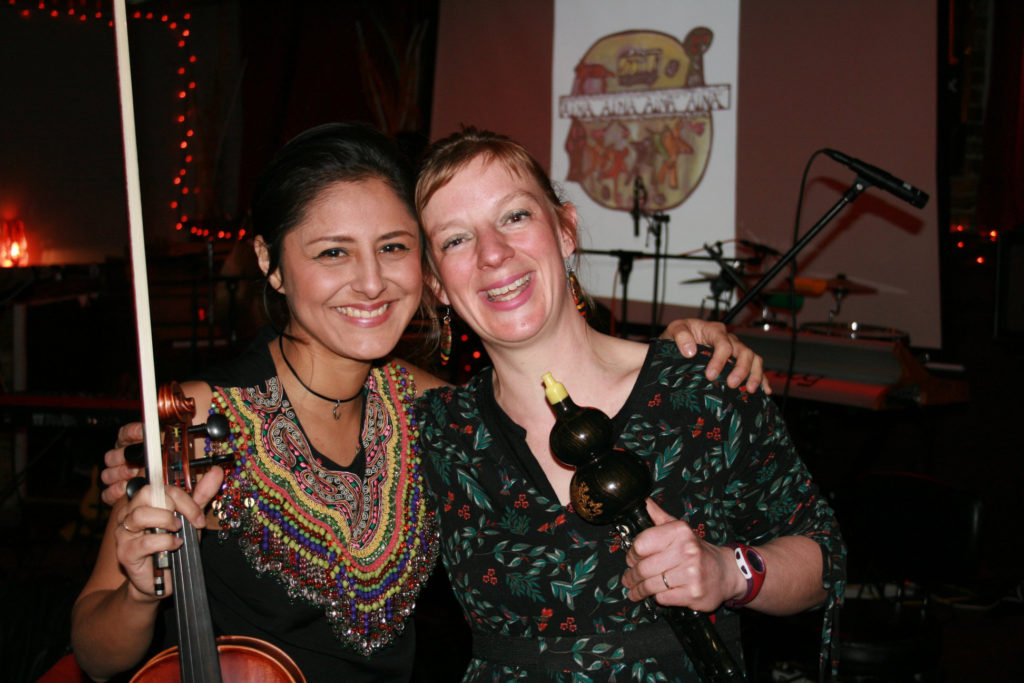 Let's take a look at your encounters and your musical journey: "Les P'tits Oignons"? When and how was this group born?
So, "Aux P'tits Oignons" (APO) is above all a story of friends who set up a group for the pleasure of sharing festive moments together and in which I arrive when they begin to perform in the bars and restaurants in Lille.
Freshly arrived at CFMI, I meet Paul, the singer and guitarist of the group and his cousin Rémi, singer and accordionist. They invite me to rehearsals and the good atmosphere and festive music operate!
Who are the other musicians?
Paul and Rémi were the hard core of the training. Today, we are seven musicians and a sound technician: Paul and Rémi, Sam on percussion, Arnaud on keyboards, my brother César on guitar and I on violin and vocals. Valentin joined us on bass and François is on technique.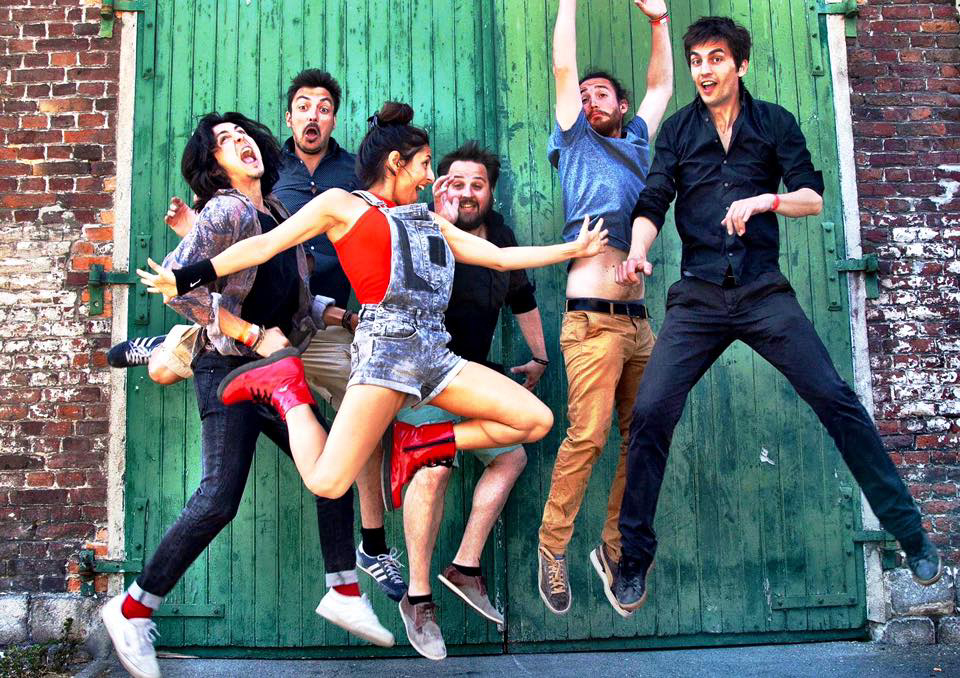 In the beginning we played without ceremony and little by little it became more and more serious. We were fortunate and happy to be able to participate in the Fête de l'Humanité, La Fête de l'Humain D'abord, the Festival des Enchanteurs, Tournai on the accordion, Les Belles Bretelles …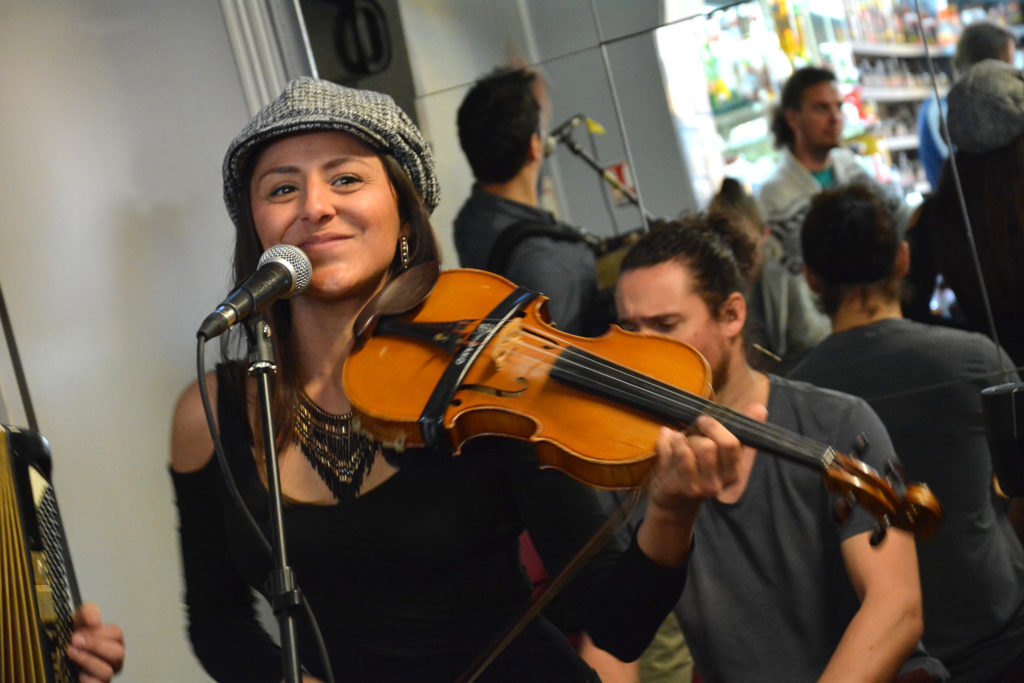 How did you find your place in this typically "French song" formation? "Les P'tits Oignons" is a festive, joyful, warm group, have you found any similarities with Mexican or Brazilian music?
Not quite. If I found my place in the band, I think it's thanks to the fact that I like to improvise and bring my personal sounds. The violin can be festive but can also bring different tones and colors, softness, melancholy, some Mexican tones yes, of course.
But without falling too much into cliches, APO's music remains first of all faithful to the "guinguette" sounds, in particular through the strong presence of the accordion. Everyone tries to add a personal touch. This is the wealth of the group.
The shooting of the "Mexico" music video is a nice tribute from the group to you and your brother, isn't it? The altars, the flag, the corn race… is that your life?
I think we can speak of a tribute to our origins, yes! It was important to the group members to share genuine things. The clip was shot during the All Saints holidays 2020, between two confinements, that is to say in accordance with the true calendar of the "Fêtes des Morts". The footage of the altar and decorations was filmed in our home, and the corn race, a symbol of Mexican culture, was filmed in a field near our home. The flashbacks of our childhood participated in the nostalgic moments of the clip.
"And I close my eyes and walk these streets that saw me Queen" … lyrics that evoke nostalgia, homesickness.
"Mexico" is from "J'tai pas raconté" (I did not tell you), the first album of "Aux P'tits Oignons"? "How did the check-in go and where?
First, we recorded the model, all together, at the Biplan de Lille. Then, thanks to self-financing by contributors (our families, our friends…), we recorded our respective parts in a studio in Lille. The music is not the main activity of the group, we have adapted our schedules and all this took place in a rather serene context, far from the current context in which we are preparing the next one!
"The Chilis"? Is it before, at the same time or after the "P'tits oignons"? Are "Chilis" a family affair?
Aaaah the Chilis are before, during and … still today! Yep, it's also a family story, first in a duet with my brother. At a time when we were very busy with our studies and very distant, we came together thanks to music.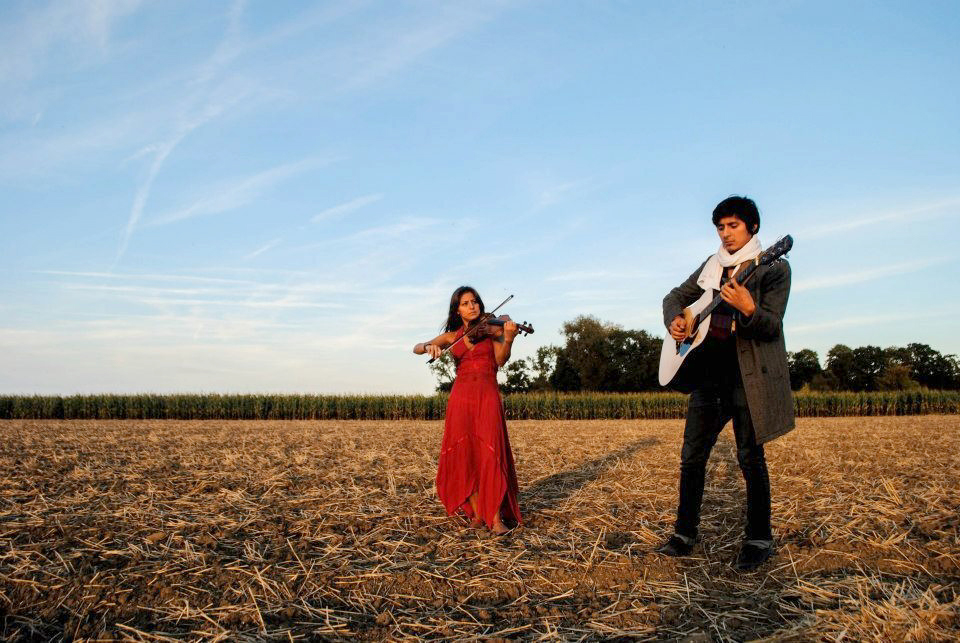 Then in trio with our friend Valentin Marlin then Valentin Bilot joined us on bass (the 4 brothers, two of blood and two of hearts).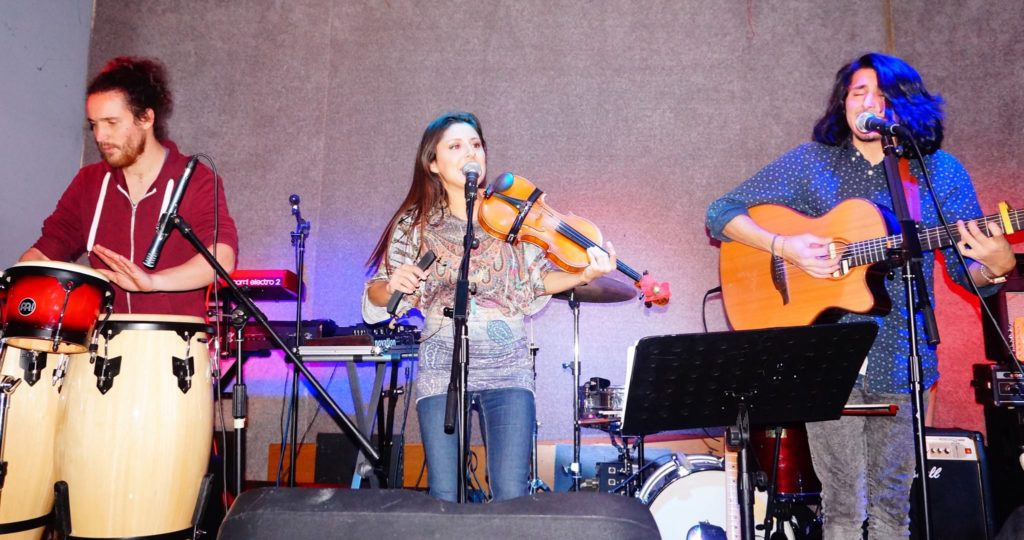 We created this training to respond to requests during events organized by APEPAC (The Association for the Protection of the Environment and the Promotion of Arts and Culture) which sits in Goeulzin, then subsequently for private services in bars and restaurants. Our very varied style is quite popular and I like people to point out to us (quite often, all the same, what an honor!): "You remind us of Rodrigo and Gabriela, a Mexican duo who do wild covers on the guitar.
You learn to play other instruments as the violin and you start singing?
Yes. A bit of guitar, cello (self-taught), small percussions, Celtic harp, and recently, ukulele, keyboard and autoharp, but above all, I'm starting to explore my voice.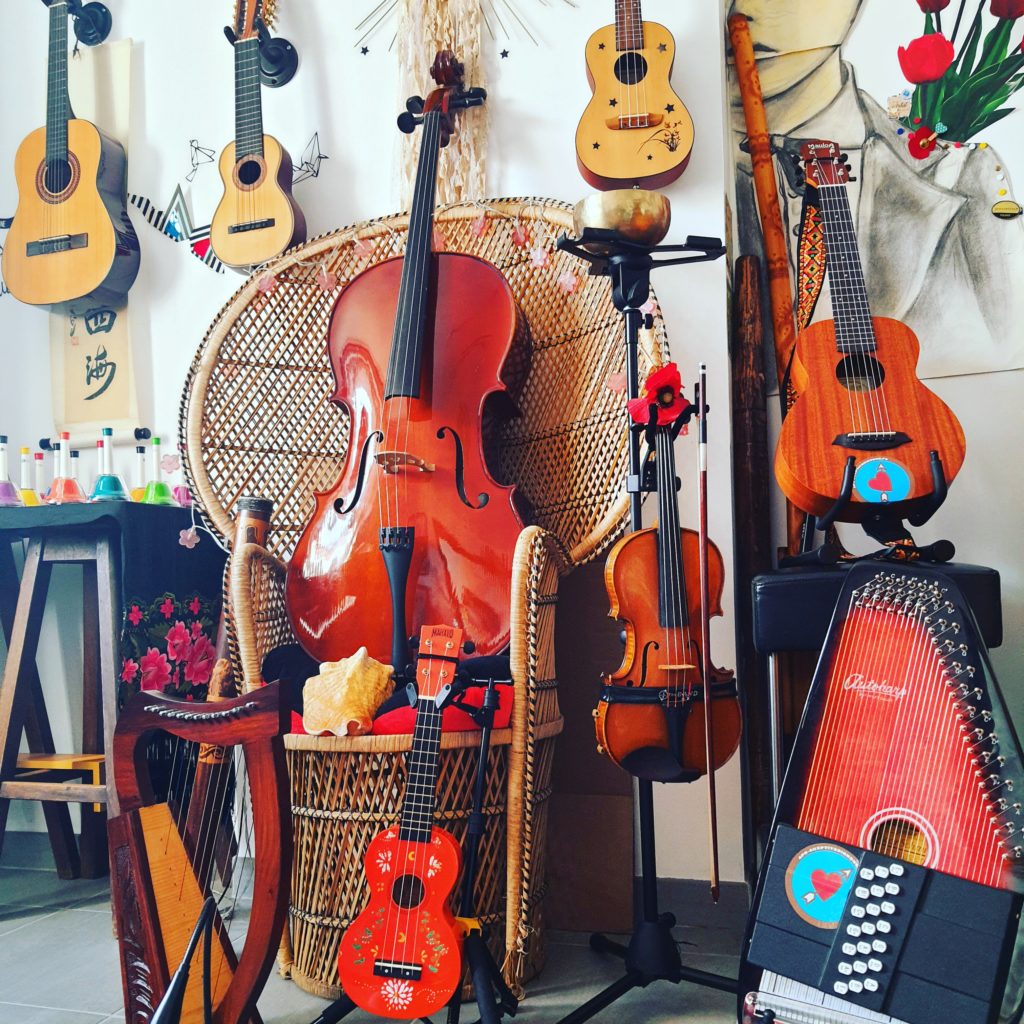 Despite the fact that I have always loved singing, I knew very little about my voice as I always left room for my parents when it came to making music together. I brought my little touch to the violin with accompanying melodies, small solos, introductions but also second or third voices because I love to harmonize, look for textures …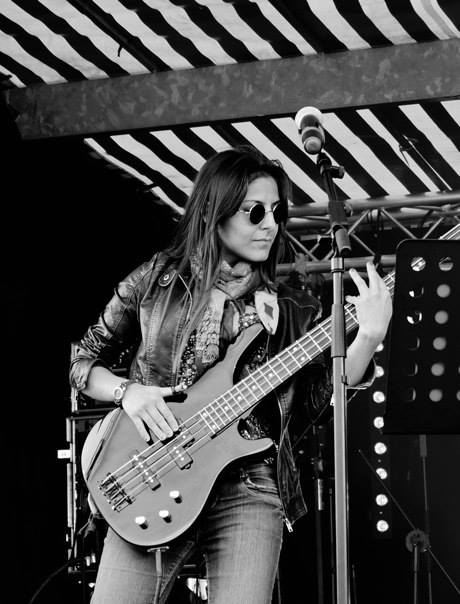 You work also with the association "Seddiki-Jazzband" Lourches? What is the purpose of this association? What was your role?
At a time when the association was looking to develop around its Jazz project, I was lucky to know a little about the "Bossa" repertoire.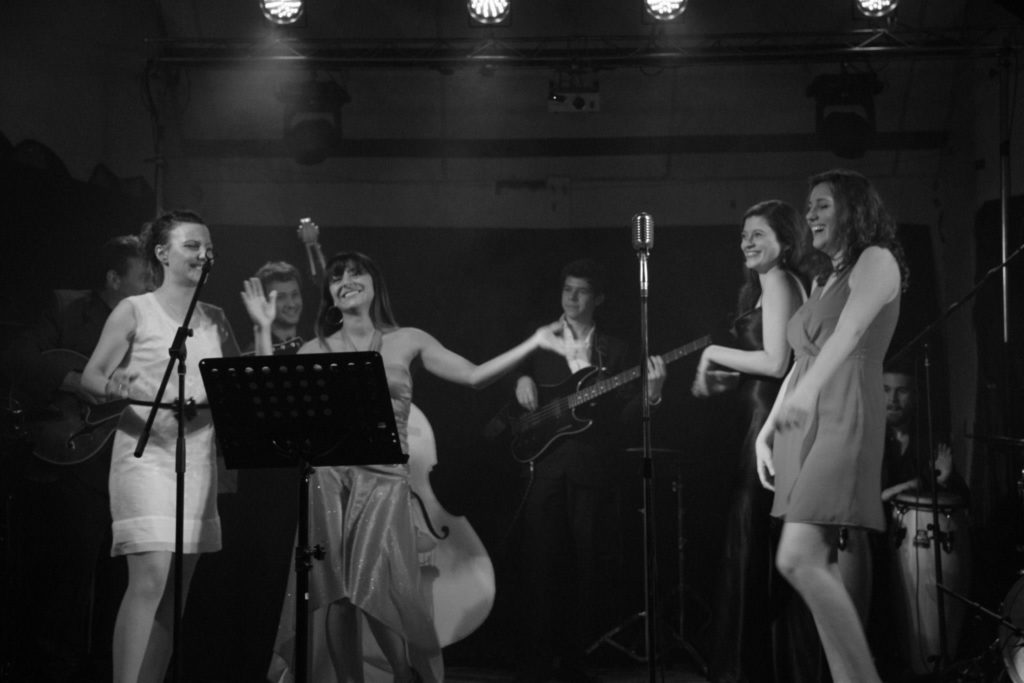 Bossa was a musical genre, resulting from the crossing of Samba and Cool-Jazz, in vogue in the 50s in Rio de Janeiro. The idea of singing in Portuguese (from Brazil) delighted me and I accepted. It was my first experience with musicians who specialized in jazz.
Then you join "Corrs and Ames" a group of Annoeulin? The group is a Tribute Band of the Irish pop group "The Corrs" This is the first time you play Irish music?
Irish music. A great love story since my childhood! It wasn't my first time playing Irish music, but a first in a Tribute and more for one of my favorite bands as a teenager!
Unfortunately, I didn't stay there for long as soon afterwards the Kubiak orchestra started auditions to find their new violinist. I applied and was selected. In terms of my availability, while I was still a student at CFMI, a choice had to be made and I had to leave the Tribute, reluctantly.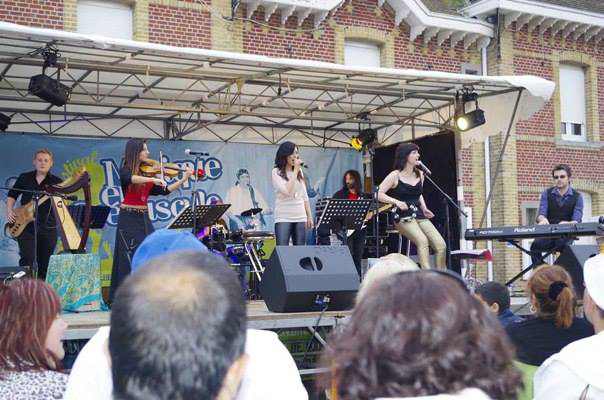 So in 2014, as a violinist and singer, you joined Christian Kubiak's formation? Apart from variety, Kubiak offers traditional Polish music, is it a new string to your bow? (or rather to your violin?)
Absolutely. And there I can say that I found myself there completely because Polish music reminds me very much of traditional Mexican music, that we hear during popular festivals in the square or under the kiosks with the trumpets, all dressed in their Sunday clothes. Nostalgia was in activated mode!
Kubiak, it was variety, current music, costumes, dance and this beautiful experience of the stage, the real one, the one that makes us lose liters of perspiration and pounds per performance!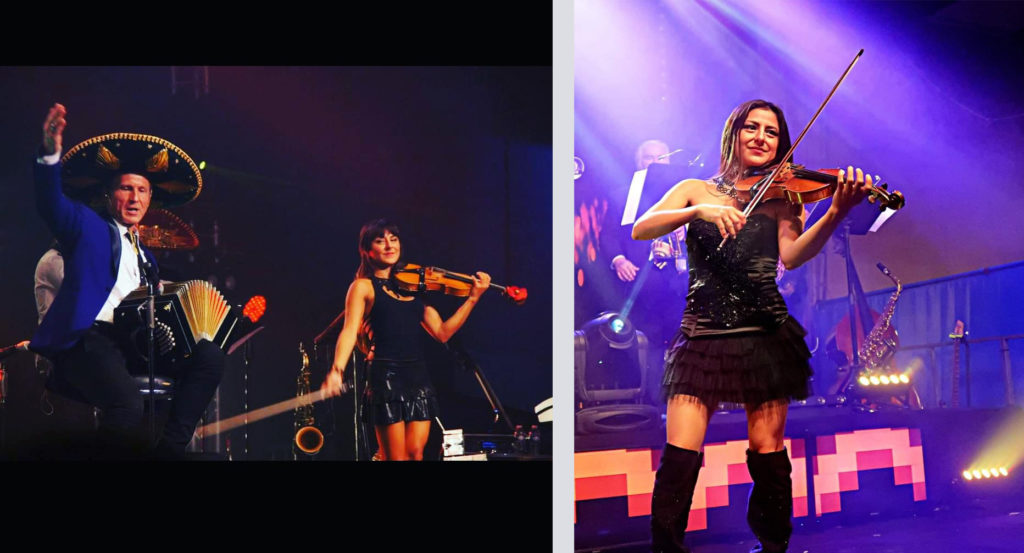 What prompts you to join the "Zalenka" Baroque Ensemble? What do you get as an experience?
I graduated from the Douai Conservatory with two gold medals, one in improvisation and the other in chamber music with a baroque specialty.
Since then, things had happened … and years. I had not yet had the opportunity to be part of baroque ensembles. My mother, who was part of this ensemble and also of "Arco Vocali", offered to integrate them because they lacked string instruments.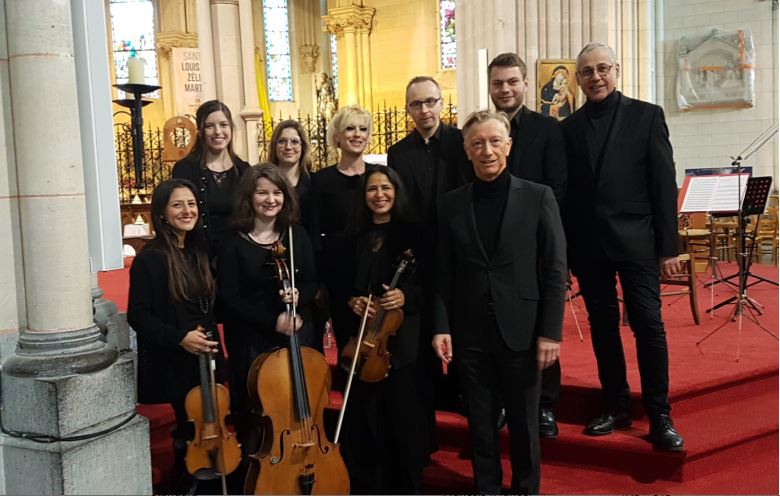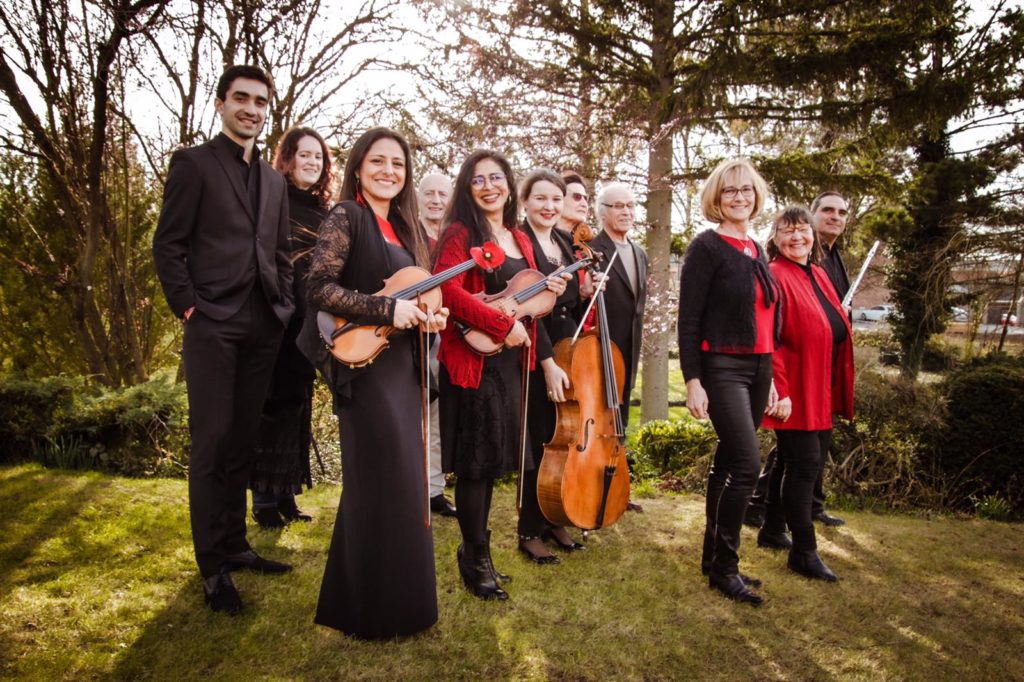 It's a great experience and a pleasure to be part of such a group, to find sounds that I love in a peaceful and friendly atmosphere. Baroque music transports you to another era and plunges you into a sound universe where there is purity, simplicity but also research. And it reminded me of feelings that I shared with friends now lost to follow-up.
Then there is AïNa? How did you join this World-Music group? Who are the musicians?
I first met Laetitia Parisse at CFMI Lille3 where we shared two wonderful years of training. We promised each other that we would stay in touch and create something together one day. It was in 2016.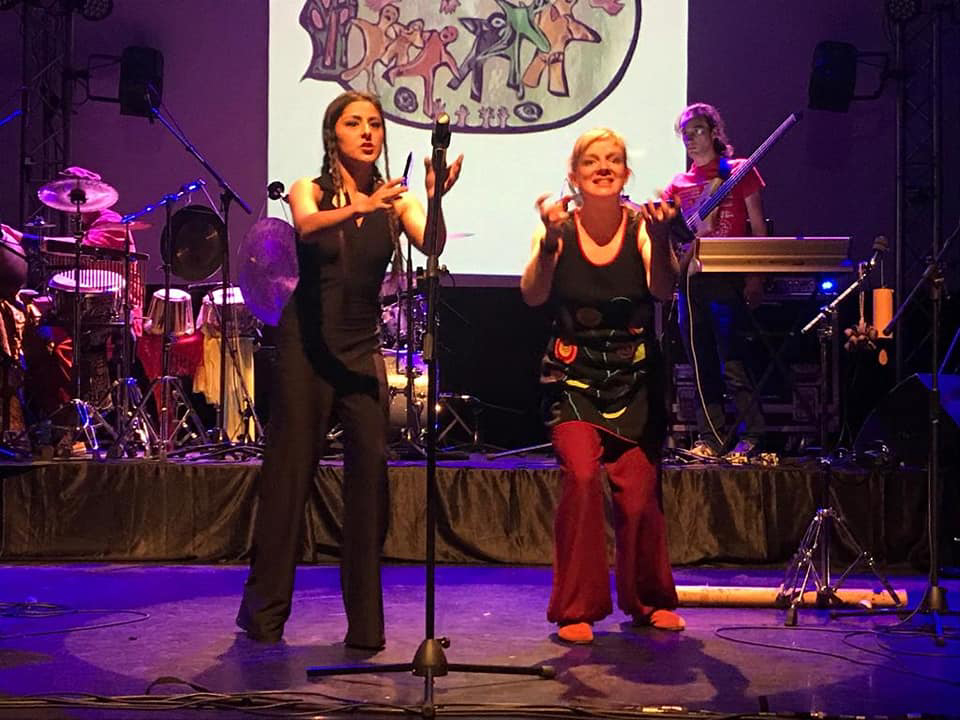 There are people like that with whom you feel in fusion, in complete symbiosis. This was my case with Laetitia and with her husband Jean-Baptiste. Two whole people who knew how to detect this little something that I had to offer. It's partly because of them that I dare to explore new possibilities, that I try to be part of something real and original.
Being in the creation was one of the projects that had been close to my heart for a long time. "Better late than never" is the phrase I keep telling myself over and over again so that I don't regret anything and take the time to undertake.
In 2018, when Laetitia and Jean-Baptiste started the project to found the group AïNa with bassist Albin Suffys, they called on me and I joined the group.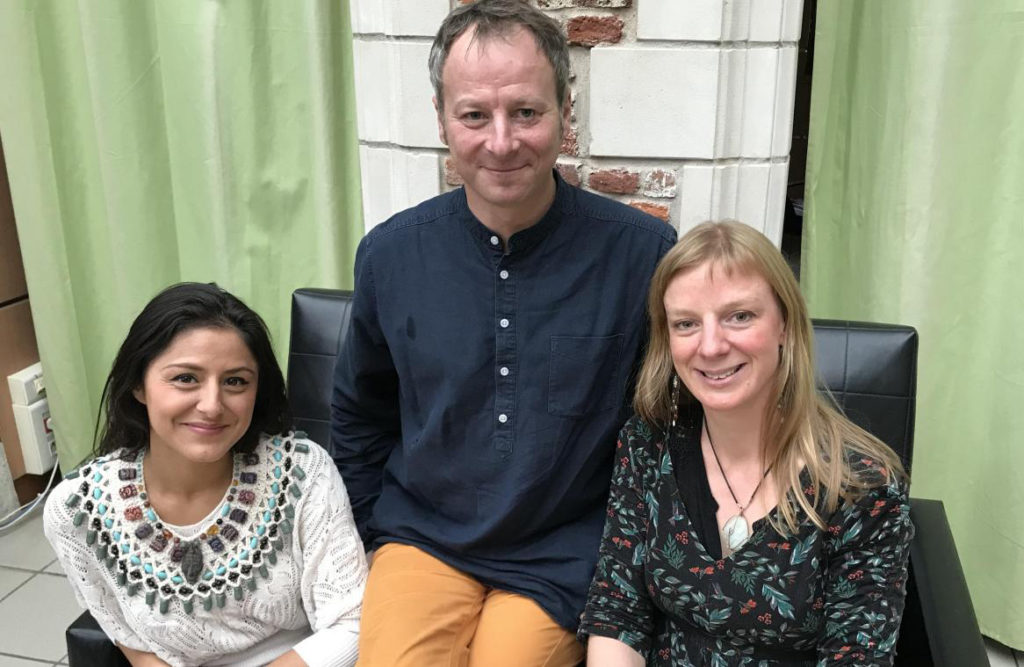 Our "baby" then begins to crawl and little by little we move forward. The following year, Anne-Sophie Marquant joined the adventure. It brings its touch to the keyboards and an even wider atmosphere in this electro-acoustic world-music.
The repertoire consists of original compositions? what is your role in this creation process?
Yes, these are just compositions. At the start there are proposals for themes that we then work together, each bringing his ideas of arrangement and proposing different tones that allow the many instruments that we have at our disposal.
The violin being a melodic instrument, I propose a color, a timbre and an atmosphere. In this process of creation, I feel free, like a butterfly which browses from flower to flower, while respecting everyone's spaces.
We start the concerts, the album cravings then … comes the first confinement.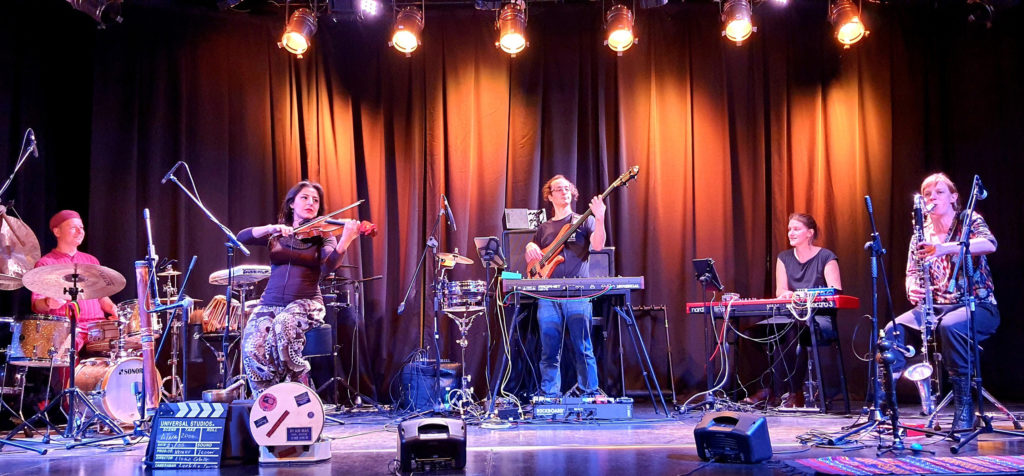 The Lodàn group invites you to sometimes you join them? you find Laetitia and Jean-Baptiste again, with whom you share the same passion for world music?
At the beginning, I have the immense joy to join them first for AïNa. It has been a while since we wanted to take on a project together. So I joined the team made up of Laetitia, Jean-Baptiste then Albin Suffys on bass.
Lodàn was formed with these three by adding the guitarist Didier Recolet. My violin came to offer the sound of bowed strings to the ensemble and I was invited as a guest from time to time. Happiness !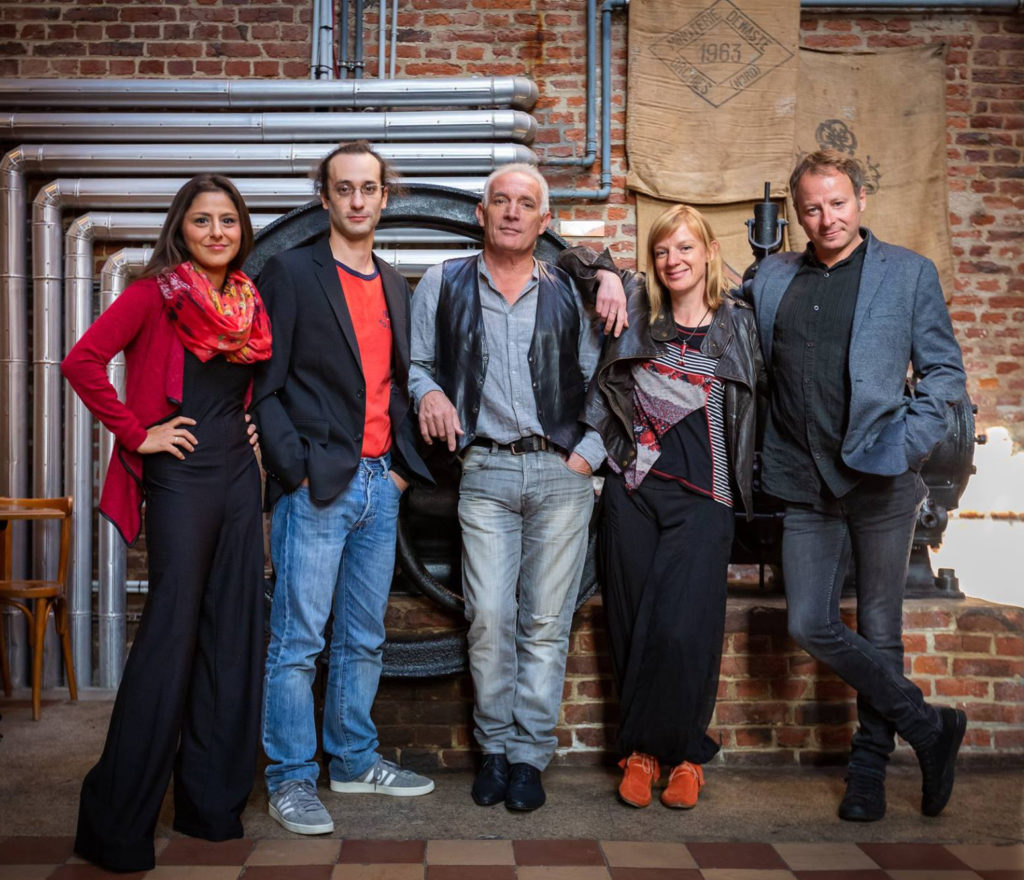 What is left of your homeland today?
Lots of nostalgia… yes, of course! In Brazil one would say: "Saudade".
I have only been there four times in the space of twenty years. The last time was with my husband and my daughter. As soon as we arrived in my hometown, we experienced a wonderful and very symbolic moment: A Mayan wedding around the "Ceiba", the sacred tree of the Mayas. All my family was there. This is my grandfather Juan Alberto, who was behind this surprise filled me with an inexplicable feeling. As if I found roots and lungs to breathe again.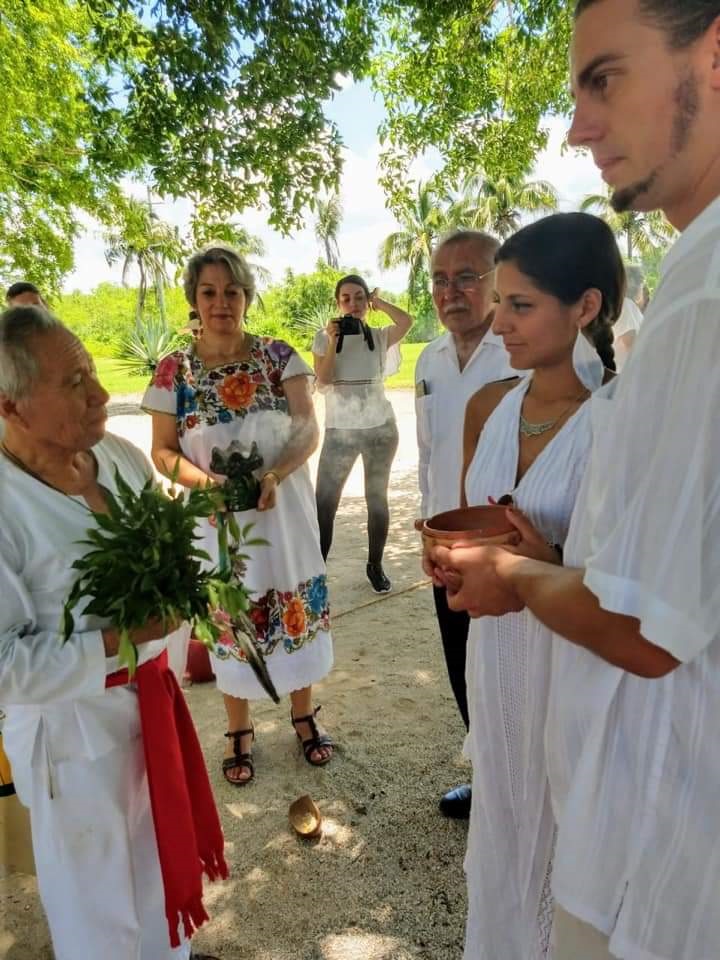 And your passage to Brazil?
I have not been back to Brazil since we left. But, thanks to the music, I was able to get closer to associations that bring Brazilian culture to life. I think of Barraca Zem with whom my brother and I had the pleasure to collaborate on musical projects for children (the Latin Kids). We revisited French nursery rhymes by arranging them in a "Latin" way, with Olivier Verhote on percussion, then shared music from our childhood in Spanish, Portuguese and French.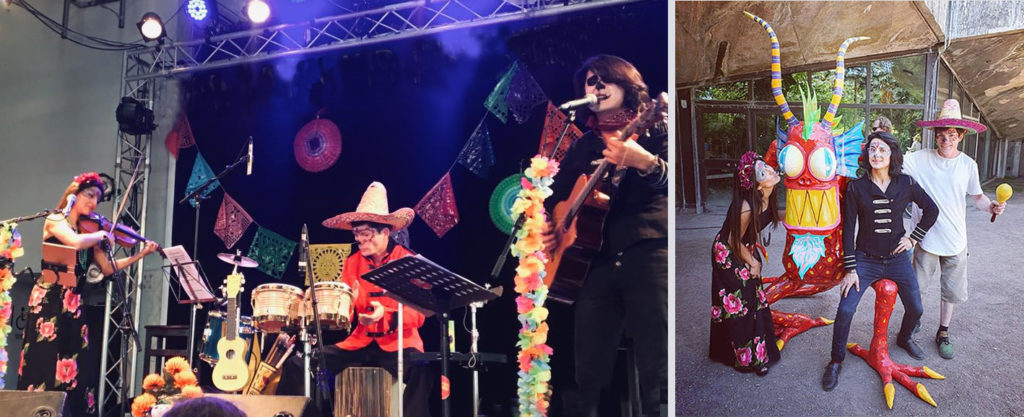 When and how does this nostalgia manifest in your life? Have you kept some traditions?
All the time, finally, especially at certain times of the year: All Saints' Day, Christmas and the end of the school year celebrations.
On All Saints' Day in Mexico, we celebrate "Dia de los Muertos" ("Day of the Dead"). Each family sets up an altar in one part of the house with flowers, incense and copal, (which symbolize the passage from life to death), candles, and garlands. We cover the altar with offerings, familiar objects, food, sugar skulls, amaranth seeds, with photos of the deceased to honor them for three days, and we end with a family meal. I love this moment. It's a nice way to talk about those who are no longer there, in cheerfulness, in color, in music and in family.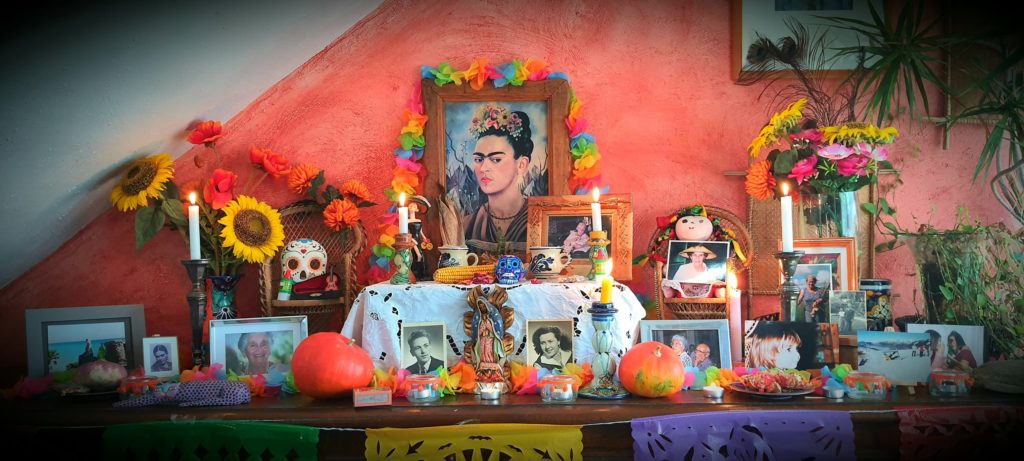 At Christmas we have the "posadas". Families come together to sing, share a meal and break the "piñata" to celebrate the year that is ending. Obviously, we are all gathered for the gifts and the evenings which always ended in music.
I also have a very beautiful memory of my childhood … With friends and girlfriends, we made a small altar decorated with a statuette of the Virgin Mary, flowers and candles to go and sing in front of the houses in our neighborhood. In return we received a few coins which we spent on fireworks. This tradition has been lost a bit today due to the insecurity of some neighborhoods.
At school, the end-of-year party was important. Each class had to do a dance wearing the traditional clothes of one of the country's states. Seamstresses grannies created the costumes. It was also the time of graduation.
The handing over of the flag was quite a thing, too: every Monday of the year, we sang the national anthem in front of the flag which was carried by the most deserving student and who was proud to be selected.
It is when you are expecting your first child that you become interested in "prenatal singing"?
Absolutely ! It was a very rich period for me. When I learned of my pregnancy, I also learned about the existence of "prenatal singing" in addition to the classic preparation for birth at the Jeanne de Flandre hospital in Lille.
Explosion in my head and in my heart: "Yes of course! Create a bond with your baby through singing, wake him up thanks to the sounds and vibrations they produce, send him, as we would say, "good vibes" and this even before birth! Live a moment for yourself with other future mothers, sing together, support each other, learn techniques to regulate your breathing and accompany the little ailments of pregnancy, all gently ".
Two years later I decided to leave the Kubiak orchestra to train myself and become an animator in prenatal singing and add another string to my… bow, or to my voice rather, because it is the voice that becomes my main instrument. I am starting to set up musical awakening workshops for parents / children 0-3 years old.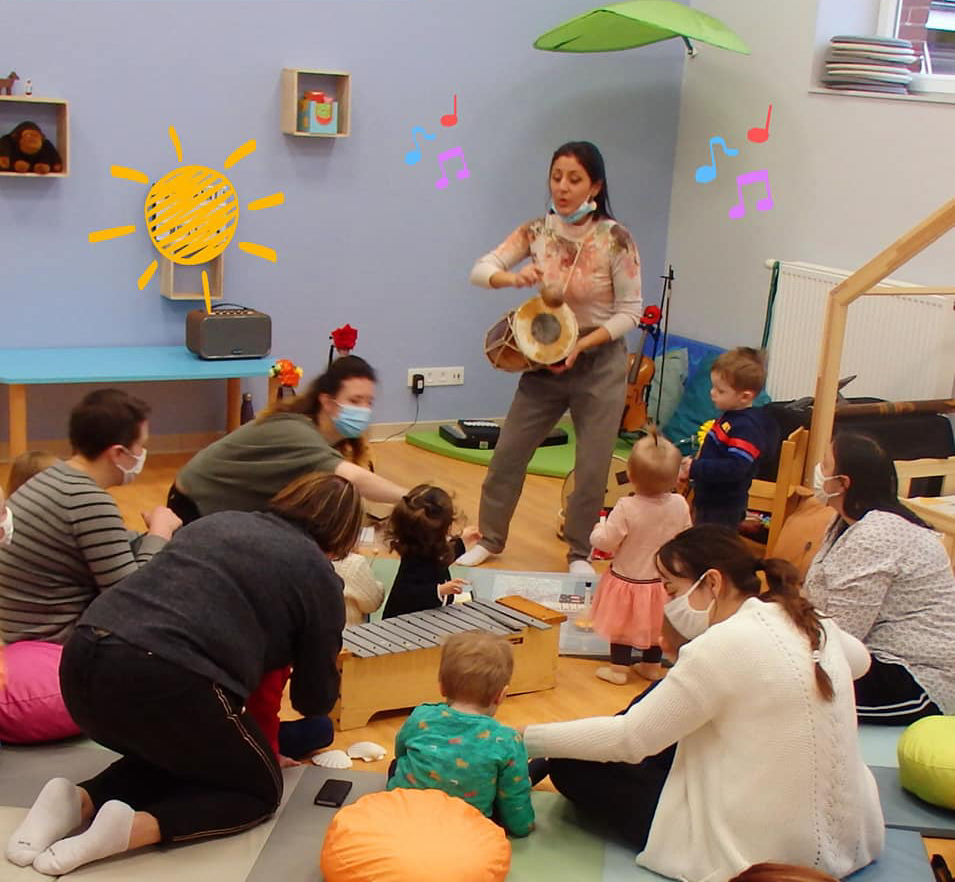 For a while, you are very interested in the well-being of people, in vibrational energies? Do you think music has a role to play in this area?
Absolutely! Music causes vibrations that resonate in us. It awakens (or puts to sleep) our emotions. Music facilitates language, it makes us laugh or cry, sounds reassure us, soothe us or irritate us according to certain frequencies.
Music has been shown to help (in some cases of Alzeimer's disease) rework memory by appealing to the emotions provided by music! We are talking about musical awakening for all ages at all times.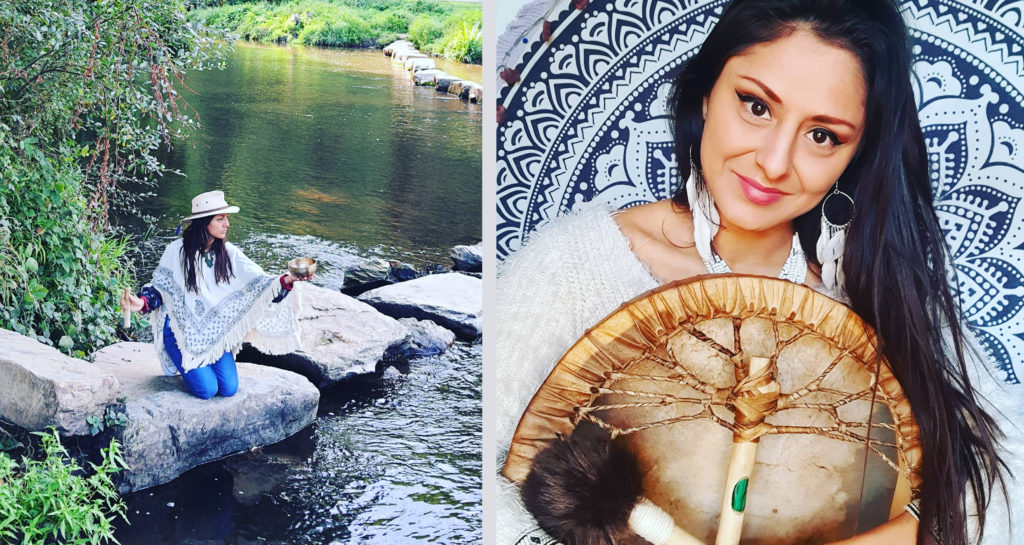 You have considered organizing workshops for adults and children?
That was the project for this year. I wanted to offer parent / child workshops in nurseries, media libraries and even in hospitals. But the health crisis cut off my momentum.
The reception areas were very cautious at the idea of accepting singing and instrument handling workshops without being able to deal with possible contagions.
While we advocate "letting go" for better learning, everyone was on the alert. Not easy for the little ones who learn by handling and often bringing objects to their mouths. I had to wear a mask, hide my face… I couldn't adapt.
How do you see the future?
The Covid period has been difficult for artists. For me, a lot of questioning, doubts … but also opportunities. I tried to stay active. Fortunately, intermittents have had the right to the "white" year to give us a little breath and time to bounce back …
But today, the stress is still relevant because, due to lack of exercise, I doubt I will be able to renew the intermittency for this year. This is why I took the steps to become a self-entrepreneur and be able, as soon as possible, to launch prenatal singing workshops in hospitals, in private homes and musical awakening workshops in nurseries and various places of Home infancy.
Since last spring we have also known that a second baby will be arriving in the family and that we will have to organize ourselves.
But I have projects, yes and several!
With the group "Aux P'tits Oignons", we are working on a new EP which will hopefully be released in a few months and I would like to continue, as much as possible, the musical projects with AïNa, the Chilis and other groups that would appeal to me.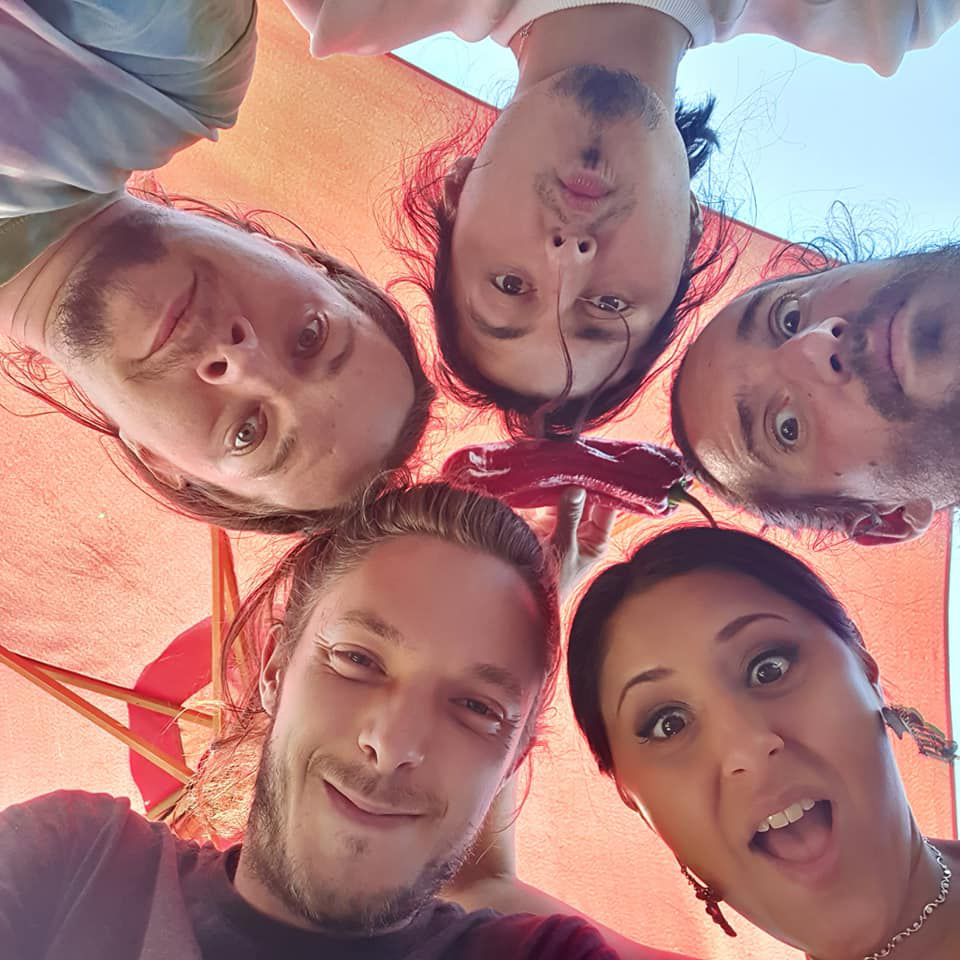 At the same time, I have set up a solo violin / vocals repertoire to musically animate weddings and wine of honor and I am also preparing partnerships with other artists to meet specific requests for reception centers for the elderly, leisure and cultural centers.

I am also working on my website, currently under construction and I am creating my own illustrations.
In 2003, encouraged by my Plastic Arts teacher in high school, Sylvie Pala, I took part in the Angoulême Comic Strip contest and I had the joy of winning (to my surprise) the 1st prize at regional level. Since then, due to lack of time, I had put away brushes, inks and pens, but I am coming back to them little by little, especially to illustrate my site and respond to orders for illustrations.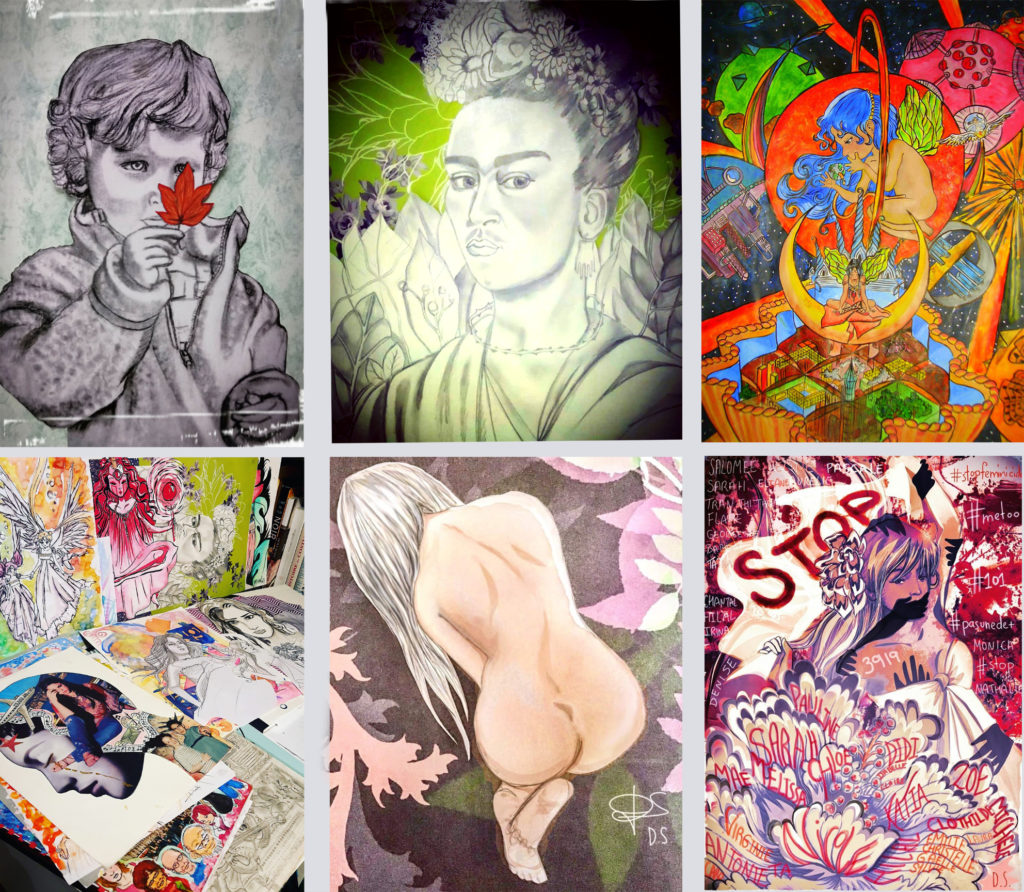 In the near future, I would like to explore the ancient Mayan music of my native region, to create atmospheres that would promote meditation, well-being and relaxation.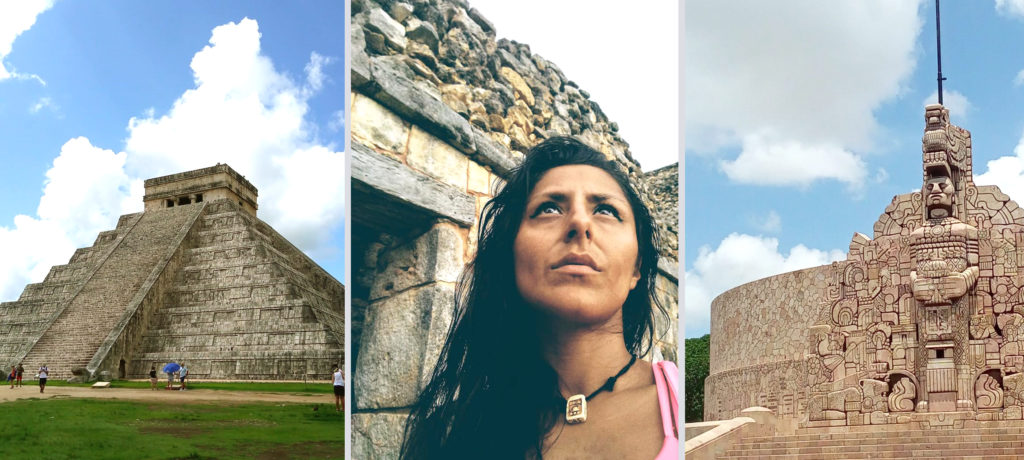 To find consistency in your career, in your ideas, in your artistic practices and in your projects, Pegase-21 was interested in the pieces of music that you published on the Souncloud platform, some time ago, when you were looking for your way, and your voice too …
It is surprising to find, of course, covers, but, for example, the nostalgia of the native country in the visual of "My Favorite". In "Summertime," the pensive teenager wonders what her future holds. The attraction to Celtic music is already present in "La Jument de Micho" and it is even more striking to find a title like "improvisation, ancestral music and imaginary journey". The track refers to what you can do (your Gold medal in improvisation) and everything you want to do, the ancestral music of your roots and explore your imagination.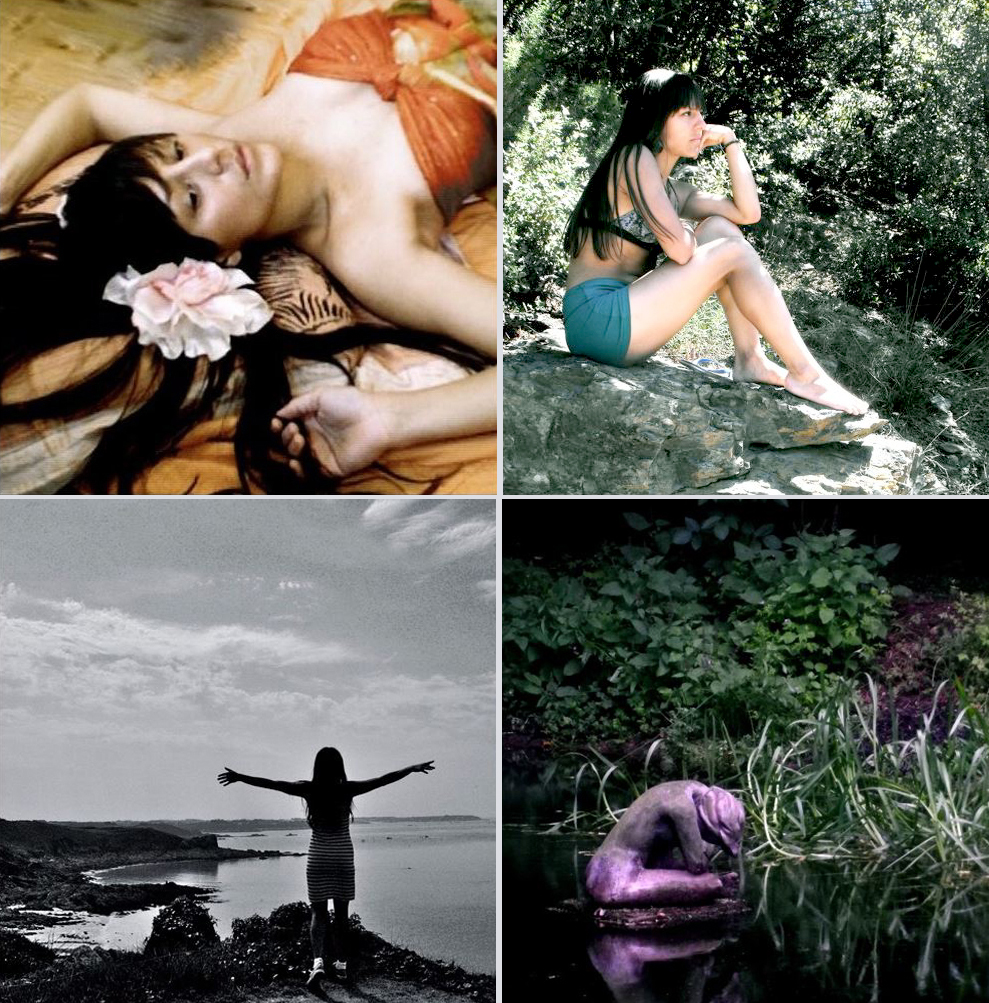 I sincerely hope to find a balance in all of this. to finally have a stable situation while being present for my children with whom I share all this very closely. A family story that repeats itself!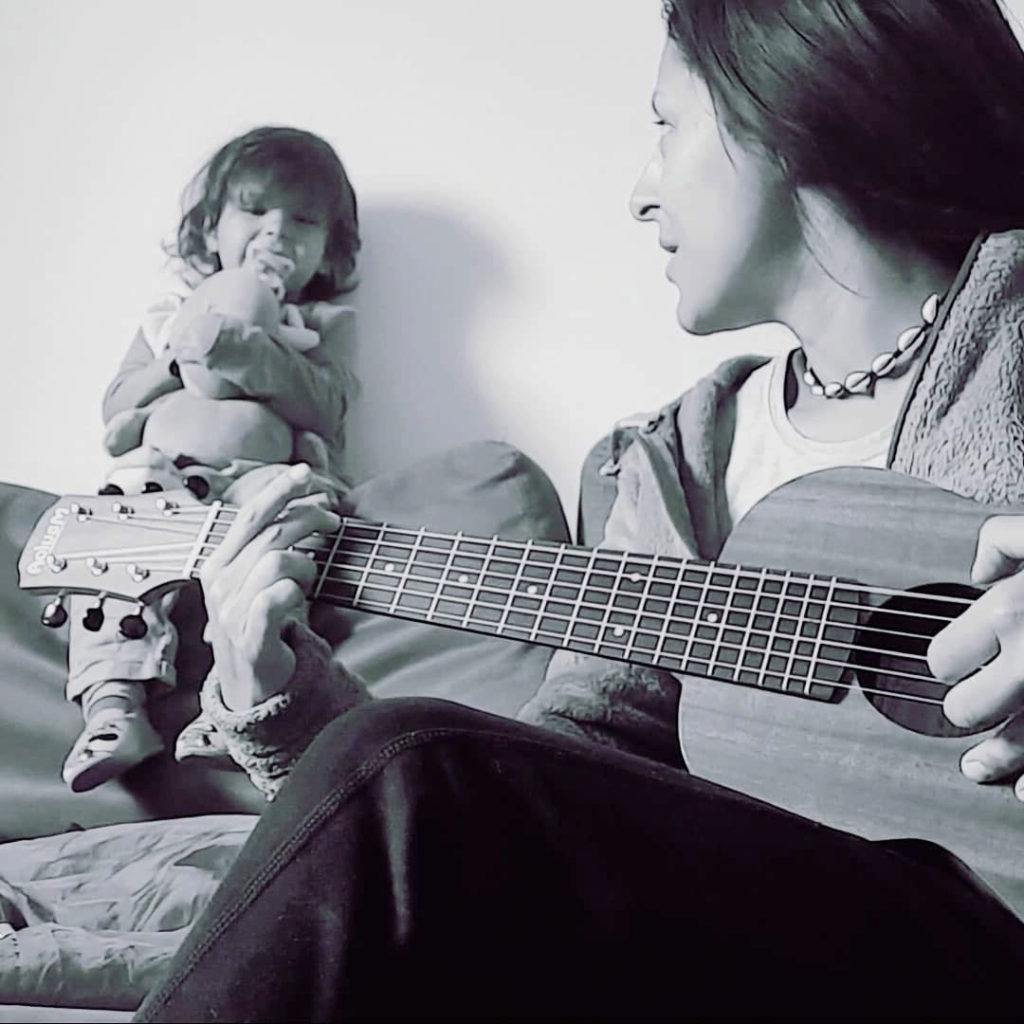 After your already many experiences, Pergase-21 wishes you good luck for a future rich in promises and Godspeed to continue this incredible musical journey.