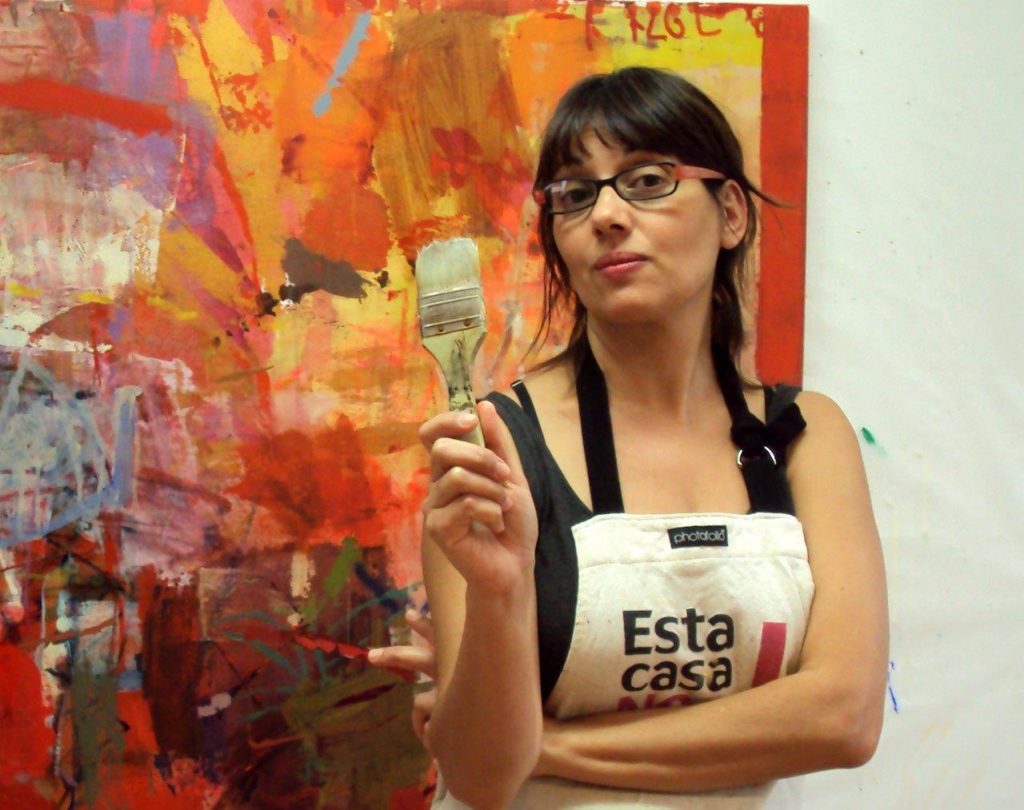 Vered GERSZTENKORN is an Israeli artist. Her approach, close to children's drawing, allows her to ensure that her paintings reflect her vision of the world, full of spontaneity, irony, humor, sometimes with a critical eye.
This mode of expression is above all an artistic choice and a refusal of conventions.
You live and work in Tel Aviv ? Are you originally from this city ? Why did you choose this city ?
I used to live in Tel Aviv between 1987 and 1999 but now I live and work in Beit-Elazari, the village where I grew up, but it's actually only half an hour from Tel-Aviv.
The art scene in Tel Aviv is very much alive. Many galleries, art fairs, street art and a lot of artists who seek for exposure.
It's a great city but became very expansive unaffordable for me and I'm afraid. Eventually I need the closeness to nature and the peace of mind I have where I am now.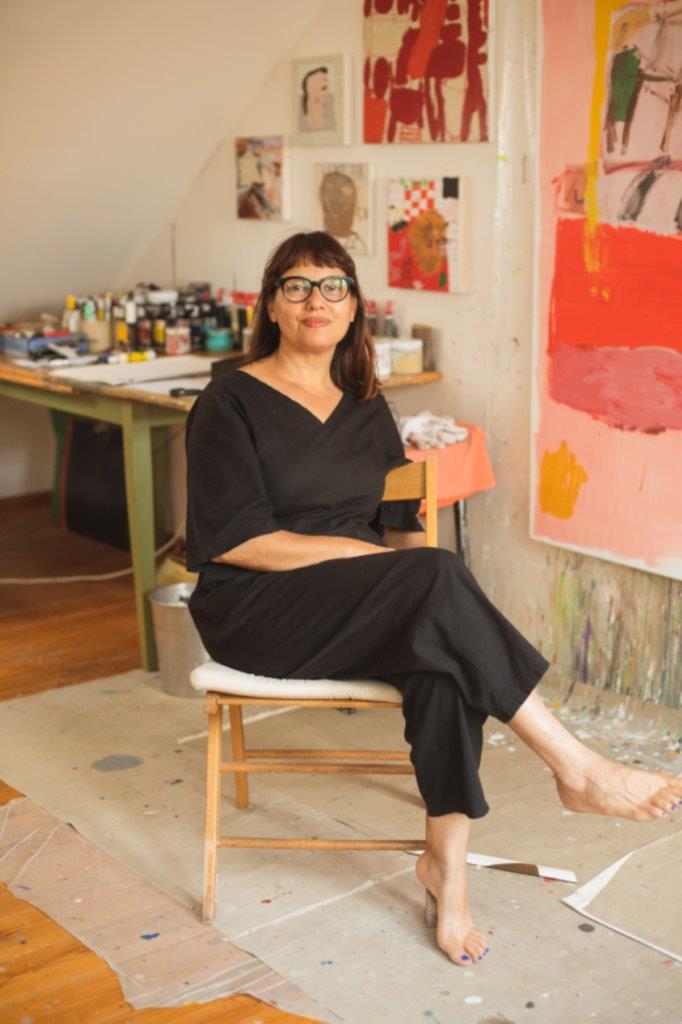 When did you first become interested in painting ?
Since a very young age, I have always drowned to colors. Basically I've always painted, but in my late 20th I gave painting much more importance and focus, and it quickly became my whole life.
Did your parents encourage you? How was your childhood, was it steeped in art?
My parents were farmers and I was growing up in a small village, surrounded by chattels and all kinds of animals and a lot to take care of almost all the time.
I think there was hardly a space for "Leisure culture".
But I must say they were never in my way, whatever I turned to. They knew I was talented but didn't knew exactly how to approach it, until I was noticed by our neighbor who bought me some art stuff including art magazines that were showing how to draw.
I loved it and I remember I was drawing all the images. Later on in my teens, my parents sent me to an art teacher who gave group lessons and I first learned how to use oil colors, painting Still-Life and more.
At home I painted whenever I had the time. I used to go to book shops looking for art books and piked the ones that appealed to me, among them Modigliani and Toulouse Lautrec…
Actually I also copied some of their works, which was a way for me to learn and practice.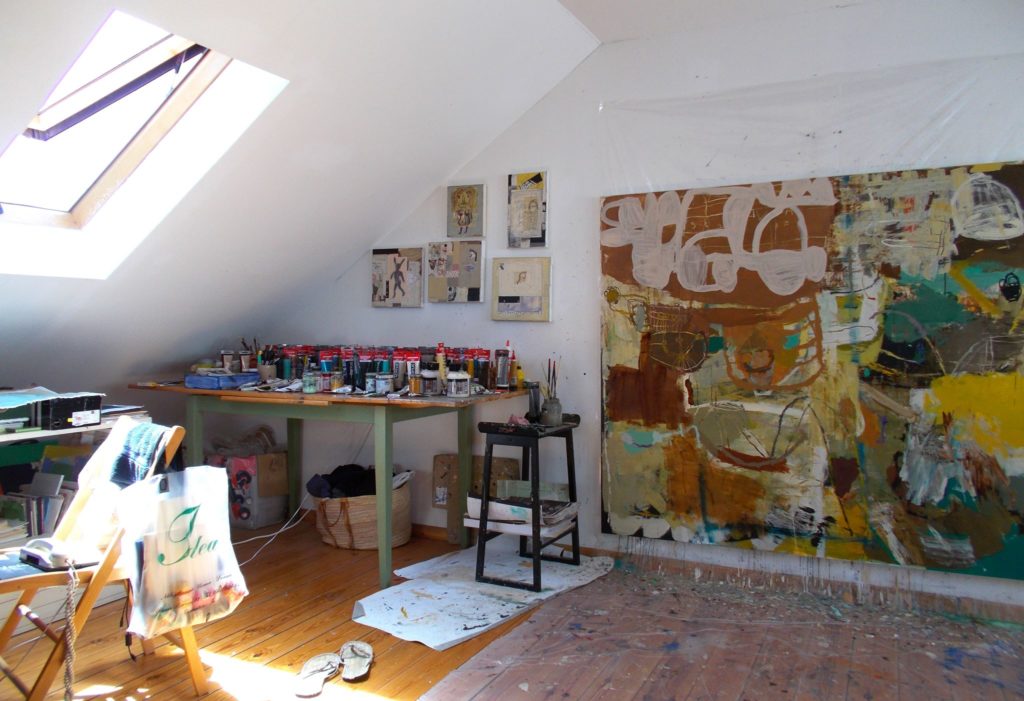 Did you take any art education ? An art school ?
When I was 21, I applied to Bezalel Academy of Art in Jerusalem and was denied.
Looking back I can see that mentally I wasn't ready, but that didn't stop me from continuing to paint and finding my own path. I am basically self-taught.
Do you have any artists that have influenced you ?
My biggest influence in Abstract is Israeli painter Lea Nikel (1918-2005) whom I also had the honor to meet.
I love artists that share childlike freedom of expression and rebellious like Jean Dubuffet, Jean Michel Basquiat, the COBRA group, Art Brut, Art Singulier and many others…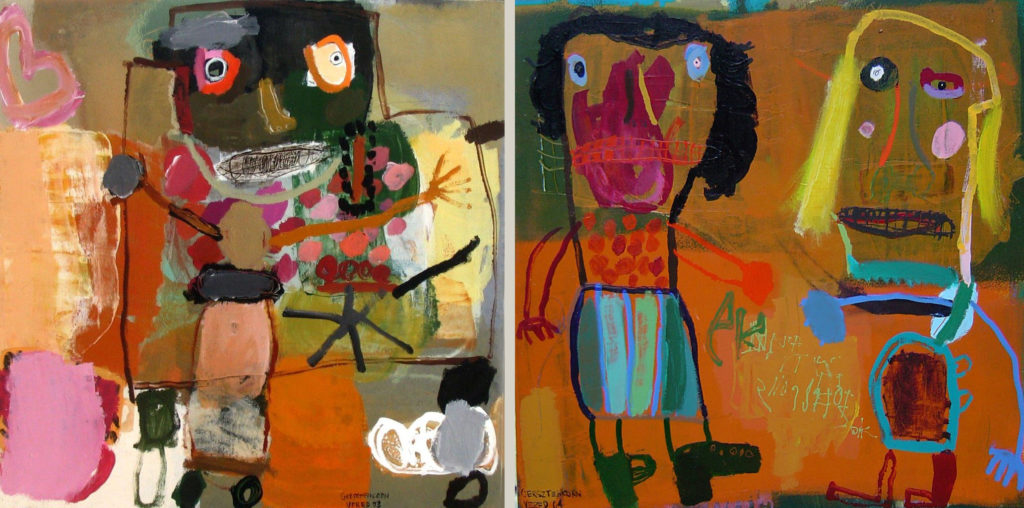 Who is Lea Nikel ? How did you know him ?
Lea Nikel is an artist woman. When I was living in Tel-Aviv, I saw a very large, beautiful abstract painting in a lobby of a hotel, near the beach. It struck me and of course I wanted to know who this artist was.
Lea Nikel is consider in Israel the first lady of abstract and for many years my work was influenced by hers. What I realized later on is that she lives in the village next to mine!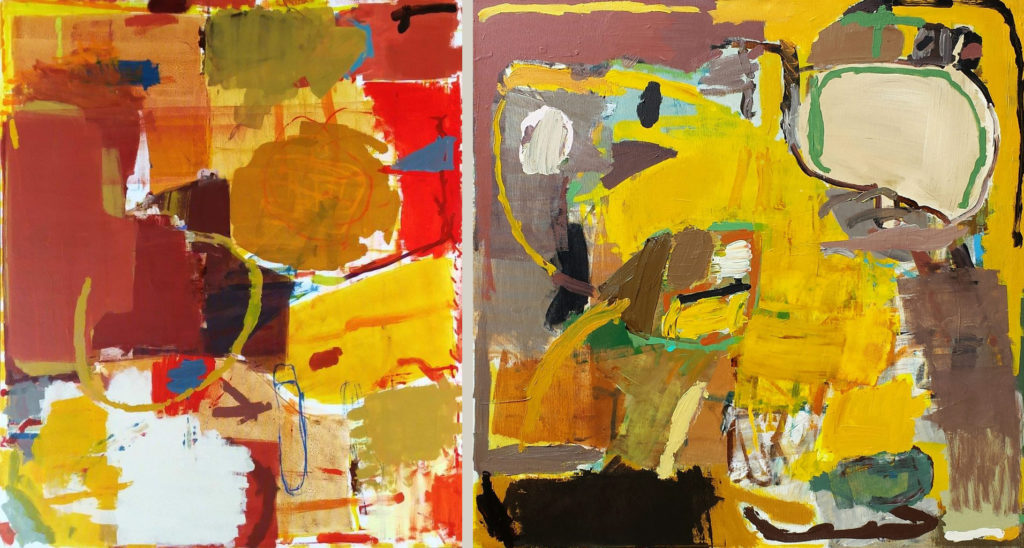 I contacted her and after one or two conversations on the phone I came to visit her one day by surprise. She invited me to go up to her studio and we talked for about an hour. I'll never forget that inspiring meeting.
In 2003 I had a solo exhibition in a space not far from where she was living and I invited her.
She saw my work for the first time and really encouraged me. It was my first show.
And Jean Dubuffet, how did you come to know his work ? Was he known in Israel ?
Well, he is known all over the world and in Israel too of course.
I can't really remember when I first got familiar with his work, I think it was somewhere around 2002 in Paris when I was working with a Parisian gallery.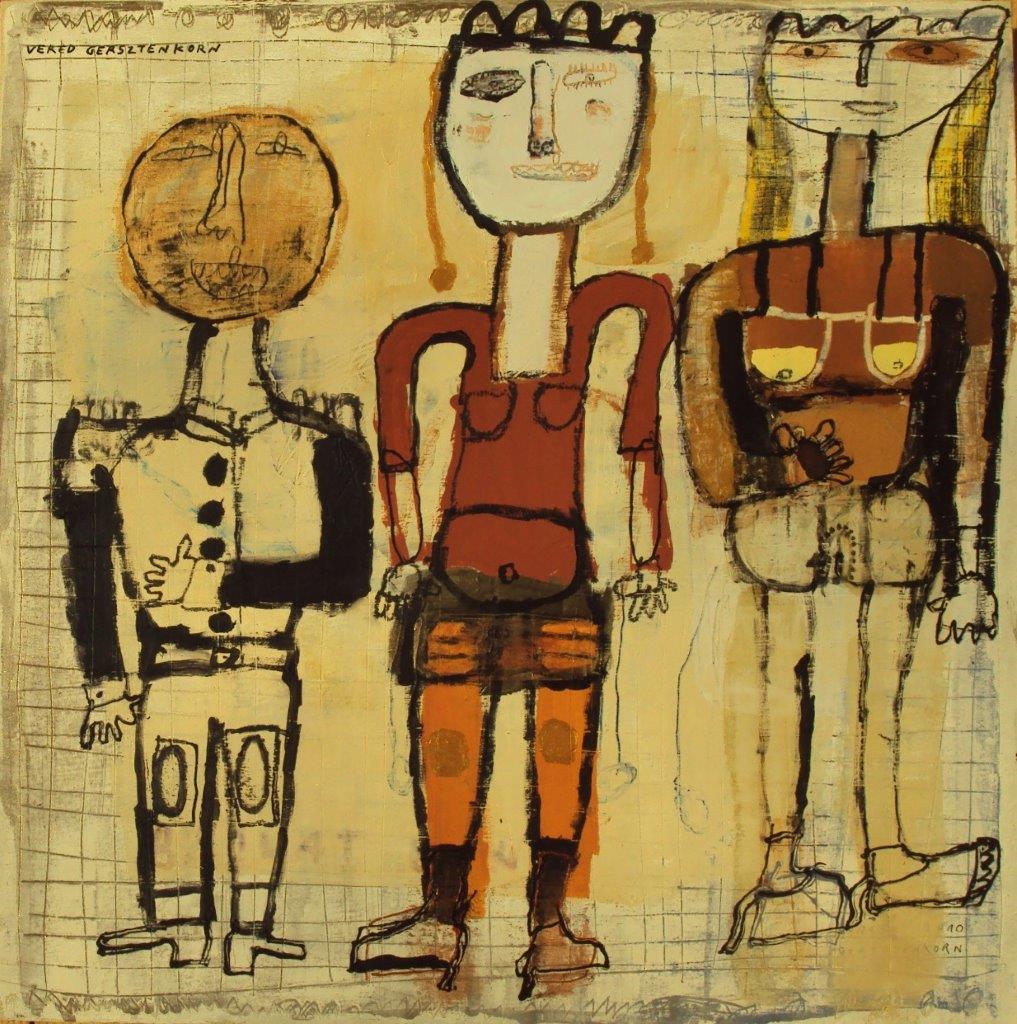 Regarding your technique, what medium do you use?
I usually use acrylics, they match the way I like to work, lots of layers and quick moves. I like to paint on canvas, on wood panels and on paper.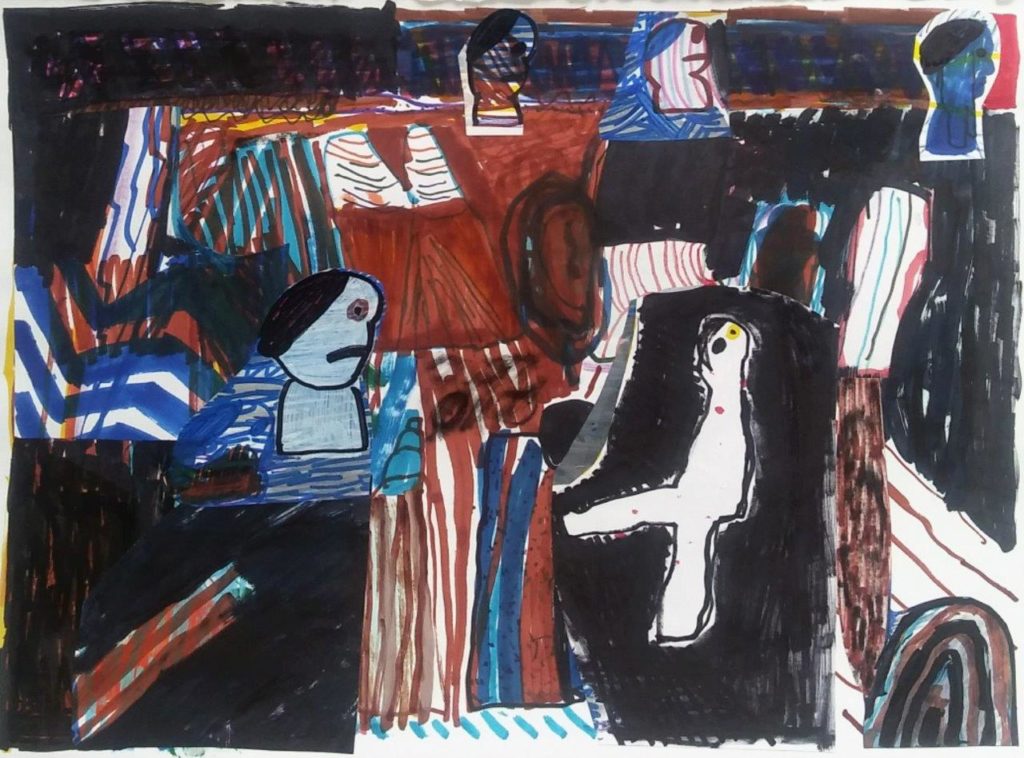 I love collages too, they are always fun to make!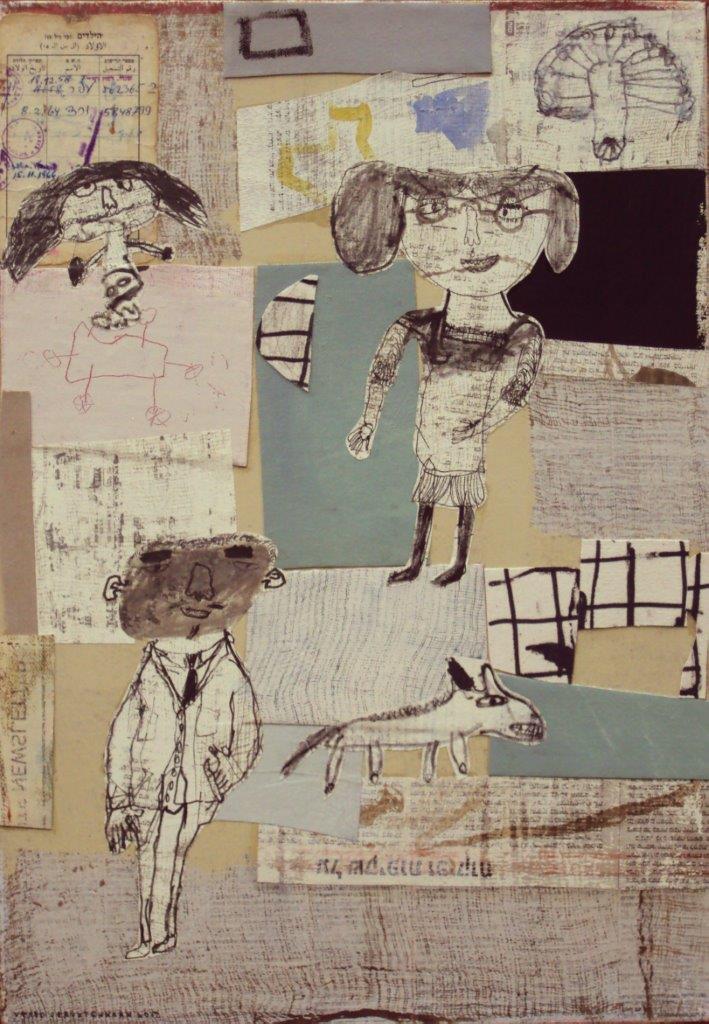 What are your sources of inspiration?
Anything I can ley my eyes on. Everyday life, works of artists I like, sometimes nature, but in the process of making appears an image of something I didn't plan.
It is often about relationships and association between the elements.
About your art, can we talk about art brut or singular art?
I have discovered Art Brut and Singulart at the same time I discovered Dubuffet.
These inescapable artists yet often sophisticated, captured my imagination and I could easily identify with them as being a kind of an outsider myself.
Some people just have that precious gift and are so authentic it encourage you to be yourself all the way.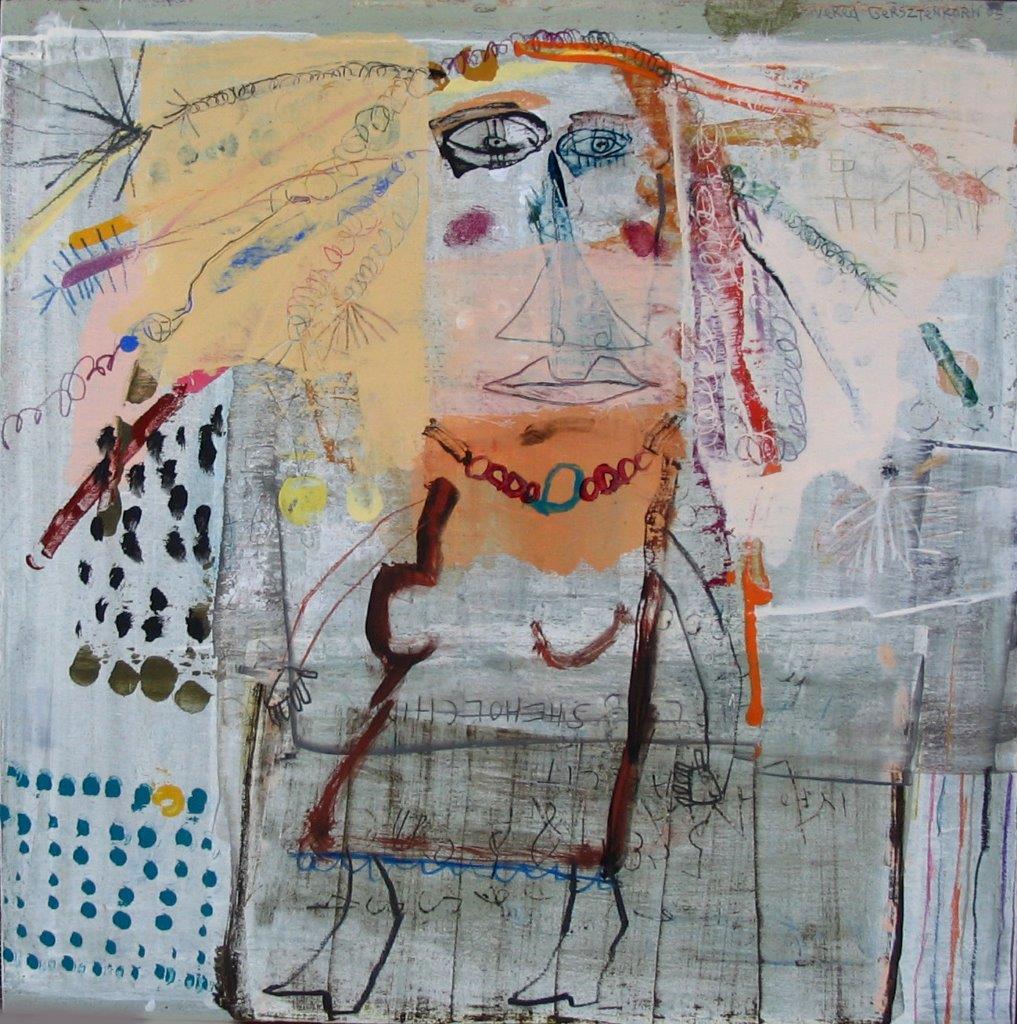 In your works, what do you seek to express?
Well, I always think i express feelings after all. I like to look at a painting and see all complicity of life expressed in shapes, tones and layers.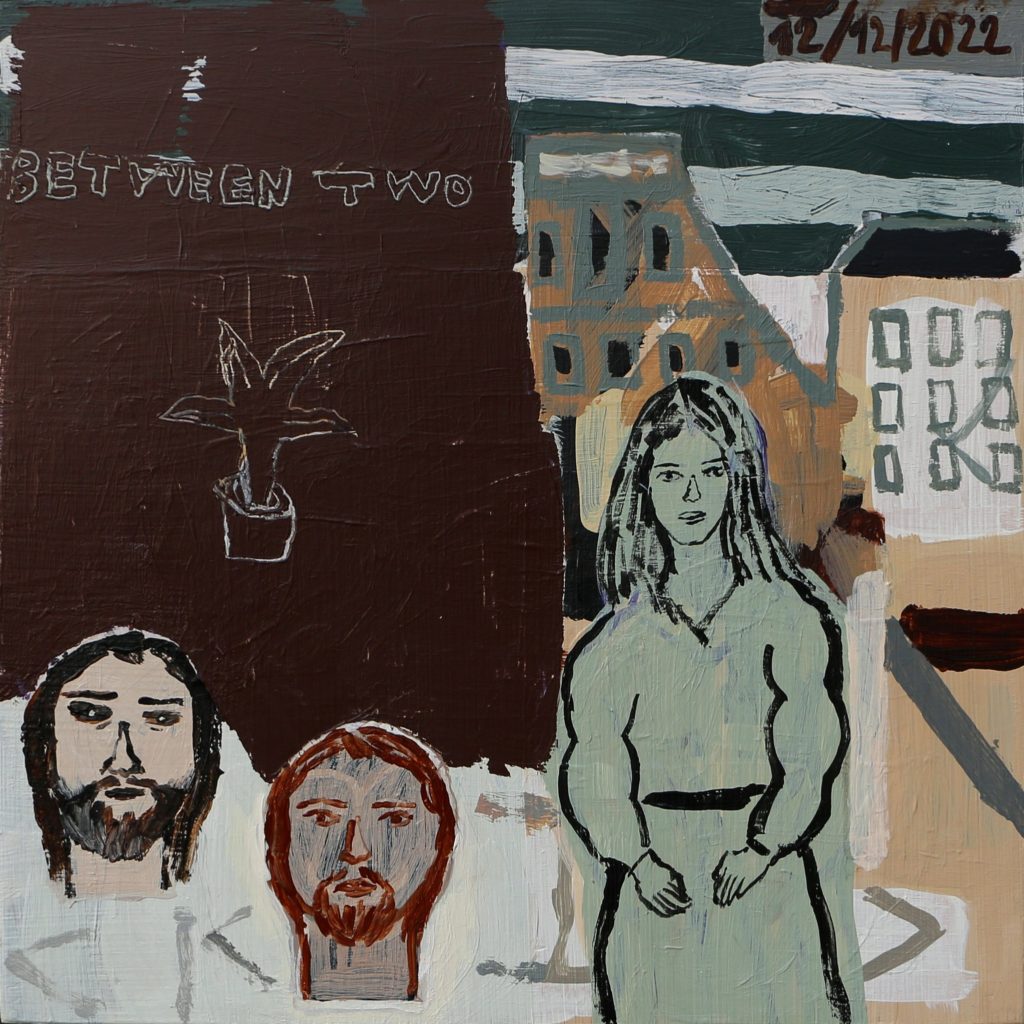 You have a humorous approach to art which is also close to children's art, why?
A human condition is often funny or silly or ridiculous. There are enough artists who express pain and sorrow, I naturally paint the opposite. Maybe it's for balancing, but I can't ignore it's just part of me.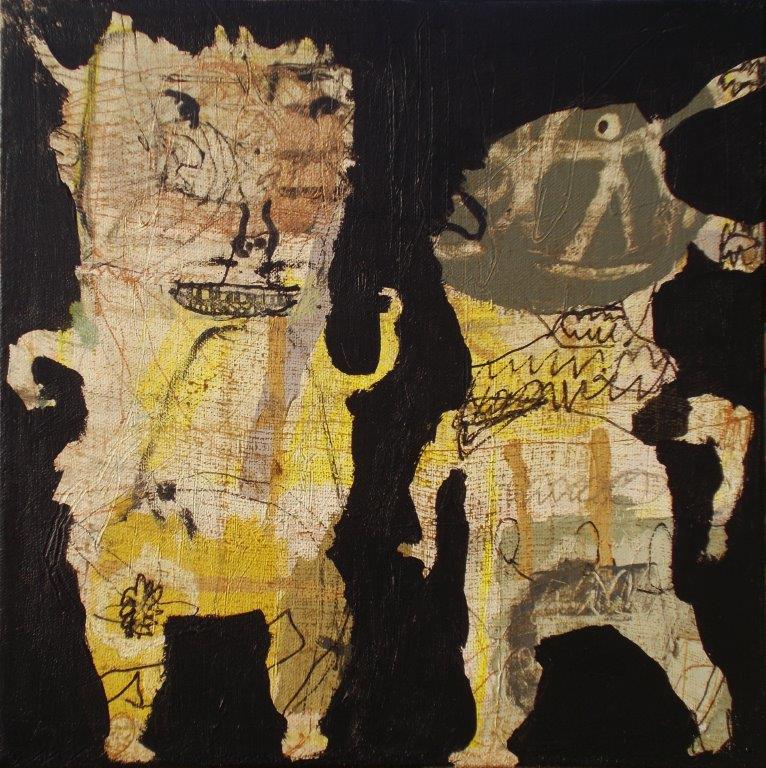 In your photos, you are often smiling, you exude a kind of joie de vivre, is this an expression that reflects your outlook on life? A philosophy of life?
I am often told that my paintings have humorous aspects. well it's just the outcome of something repressed I believe.
I think so because in my upbringing there wasn't much space for humor or laughter I'm afraid, but that doesn't mean I didn't had inner joy, it was just not expressed.
As a child I lived in my own fantasy world (and still am) and that reflects in my work.
In a way my paintings were 'telling' me something about myself that I wasn't aware of. It was only a matter of time until I could relate myself and identify with what I expressed on the canvas.
Have you traveled a lot and met other artists?
My first meaningful travel was in 1990 to Tahiti in French Polynesia.
I was so much impressed by the colorful surrounding and the sweetness of the locals, my paintings looked like a colorful fiesta.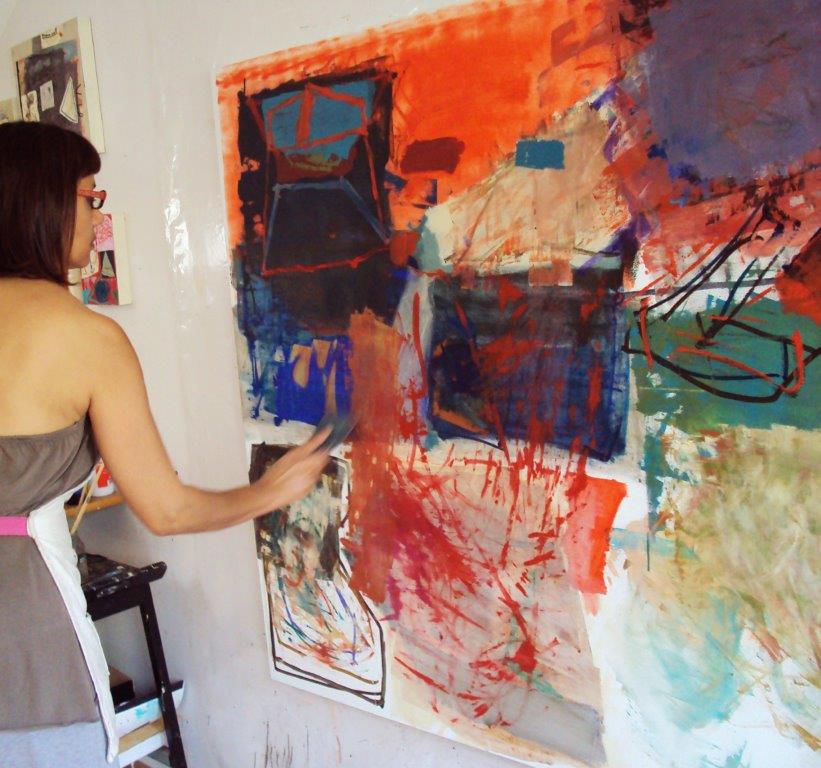 In 2014, I collaborated with GAP (Global Art Project) which is a group of artists who have shared residences in Italy, Mexico and the United States, working together, organizing workshops and exhibitions.
How did you end up in Polynesia?
I was married to a Frenchman who had been living there for eight years when we met. He told me so many wonderful stories about Tahiti and specifically the island of Moorea that I just had to go. I was 26 years old.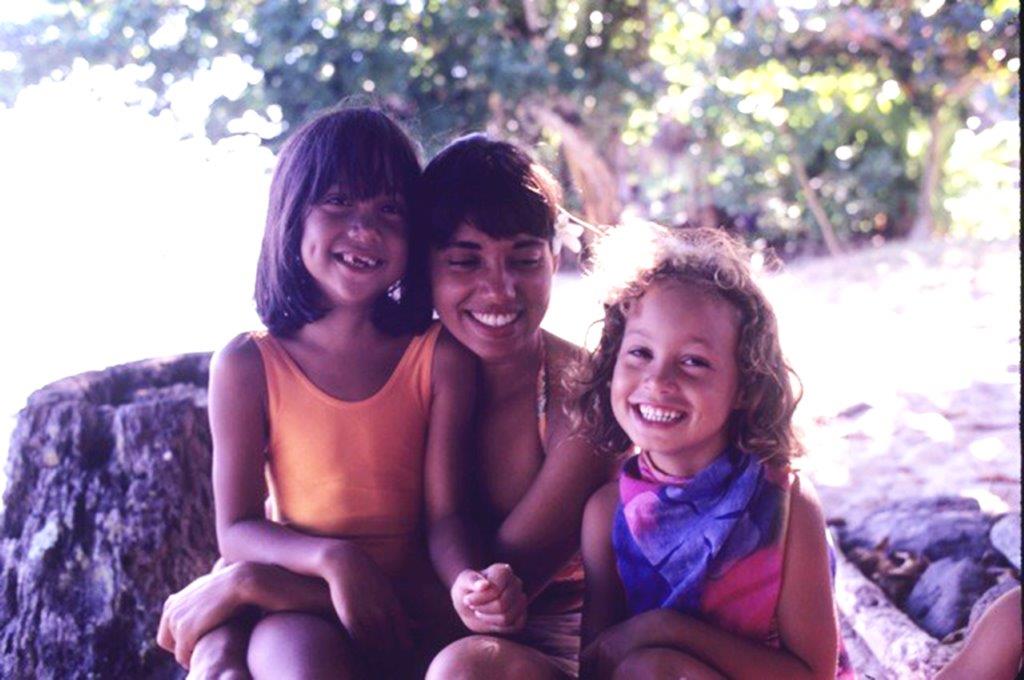 Did you meet local artists ? Were there any exchanges with them ? What did it get you ?
With the Global Art Project, I only attended two residencies, in Venice and Lecce in southern Italy.
We met local artists and artists that came from abroad specifically for working with us, which was amazing.
We created together all the time, made collaborated works, shared ideas and learned together new techniques. We also lived in the same large apartment and discovered the cities together. It was fun.
These experiences were unique and inspiring for me, as an artist who always works in solitude.
What are your plans for the immediate and more distant future?
My plants are never long term to be honest. I'm happy and grateful to be able to create everyday and always hoping for a new exposure.
Lately I was proposed to have a solo exhibition in Yucatan – Mexico and for me it's exciting, I'm looking forward to it.
Pegase-21 congratulates you and wishes you a lot of success in this project, but also a lot of pleasure and emotions in your artistic work.